Futsal Shoes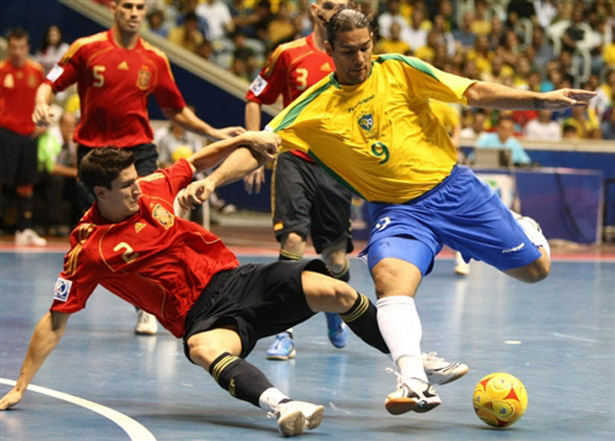 Futsal shoes are critical equipment for indoor soccer games. The shoes help to create a link between your feet and the ball. These not only help to influence a player's performance but also protects them from any potential injuries.
Your play is extremely affected by the footwear you are wearing. It influences traction, stability, and contacts you make with teh futsal ball. Good quality futsal shoes will help you control the ball, how you pass and how accurately you perform in front of the ball.
In this post, we will discuss some of the best futsal shoes that you can buy online. Also, we have put together a small guide to help you buy the best-suited shoes for you and tips to take care of the shoes.
Best Futsal Shoes on the Market
There are plenty of opinions to buy from in the market; however, only a few of them are the best indoor soccer shoes. Below we have listed some of the best options to pick your shoes from. These brands are popular and value for money and are known for supreme quality.
Like any other sport, futsal shoes need to fulfill certain requirements and aspects in order to fit like a custom-made shoe. Let's check out the best shoes for your next purchase.
Best Classic Shoes
adidas Performance Men's Samba Classic Indoor Soccer Shoe
This men's indoor soccer shoe from Adidas is undoubtedly the best purchase you can make. Adidas is a German brand that designed its first samba shoes in 1950. It quickly became the first choice of players who used to train on frozen pitches. Ever since then, it remains the first choice of customers on Amazon. It has gum rubber outsoles that provide maximum grip while the soft leather upper body looks stylish, providing accuracy and durability. This classic shoe comes in six different colors, offering you a wide range of choices.
Best Budget-Friendly Shoes
Diadora Men's Capitano ID Indoor Soccer Shoes
Another most loved men's indoor soccer shoes are from Diadora. The brand has expanded its fame in the football industry and provides value for money. The fabric lining of the shoes is breathable that keeps your feet cool and comfortable throughout the game.
The rubber outsole of the shoes is abrasion-resistant and also provides you enough grip to play indoors. It also features an EVA midsole, which is designed in a way to absorb the impacts meaning it provides better protection against injuries.
Nike Futsal Shoes
Nike Men's Davinho Soccer Shoe
Nike is a well-known brand in the sports industry, and the Davinho range has received many positive reviews from the customers. The upper of the shoe is made with mesh blend and synthetic leather. You can feel the futsal ball as if you are playing barefoot.
These shoes will also increase the accuracy and your performance in the game. The groove's rubber finish sole provides extra grip and traction on the indoor surface. Not to mention, these are super elegant shoes.
Adidas Futsal Shoes
adidas Predator Tango 18.3 Indoor Men's
Adidas is one of the biggest competitors of Nike, and Predator Tango is simply one of the best indoor soccer shoes launched in the market. The best feature of these shoes is the built-in holder, which makes your feet feel like cozy socks.
It protects the ankle from injuries and also increases stability, and the outsoles help the players to quickly change the directions, which is the best feature for any futsal player.
Best Girl's Futsal Shoes
Under Armour Girl's Magnetico Soccer Shoe
Under Armour is a reliable shoe brand in the market; therefore, there is no compromise on the durability of the shoes. The Magnetico range is made with soft leather and comes with a synthetic upper and adjustable lace-up closure system to secure the feet properly. The inner part is packed with a layer of flexible material to fit your feet like a glove preventing slips.
It features special FormTrue technology in the toe box to ensure stability under high speed and pressure. The antimicrobial sock liner under comfortable underfoot is an excellent addition to prevent rash or odor.
With Under Armour Magnetico girl's futsal shoes, you can never go wrong.
Read More- What Soccer Players Should Be Eating?
Other Options:
Joma Men's Dribbling ID Indoor Soccer Shoes
These indoor soccer shoes from Joma Men are crafted for improved stability, control, and comfort. These shoes are suitable for both professional players and rookies alike. When it comes to comfort, Joma has so much to offer. From extra cushioned insoles to a lightweight design and padded ankle support, Joma is another name for comfort.
The shoes' toe box area comes with protection technology that promotes ease when hitting during an intense match.
The forefoot is quilted and makes the shoes look aesthetic while promoting ball-control at the same time. The shoes provide durability by giving flexible and quality leather and mesh upper to combine construction. This ensures that you get all the support and control you want without compromising on durability.
The mesh detailing ensures proper airflow to minimize any chances of rash or odor from increasing heat or dampness. The highlight of these shoes is the Flexo system soles with multi-flex lining. These Joma shoes have rubber outsoles with triple density, which adds to the shoes' support and durability. Available In multiple colors, these indoor soccer shoes cater to the likes of the masses.
Adidas Nemeziz 19.3 Indoor Soccer Shoe
Adidas Nemeziz range is among the comfiest futile shoes ever made. This shoe brings you a unique and taller shaft while offering you more ankle support which is not seen in most shoes.
People who like low shafts in their shoes will have nothing to worry about with this one. It is high enough to minimize resistance, and the no-tongue design will make it equally wearable and breezy.
The adjustable lace-up makes wearing and taking them off very easy. The upper part of the shoes is made with durable textile and comes with an interlocking pattern of lines to give a cool finish.
People who are not used to the low cut shaft may feel a little weird in the beginning with shoe tongue but will slowly get used to it. However, these might not be the best option for bigger feet.
Adidas Unisex Copa 20.4 Shoes
Get ready to turn some heads toward you with this stunning pair of shoes. Once you go to your futile practice wearing these beauties, a lot of men are going to ask you where did you get these from. Adidas Copa 20.4 is one of the finest pieces in the futsal market. The gray upper and solar yellow hint on the lining makes it so attractive and appealing.
It comes with a matte finish, making it unique from all the pairs of shoes you have had before. These unisex indoor soccer shoes come with upper, synthetic material and a low-cut shaft design.
To add more to the aesthetics of the shoe are the special stitches that go from sides to the right where the lace-up closure is. These stitches prevent the ball from slipping and provide a call-control feature.
Adidas Copa 20.4 comes with a brown synthetic outsole that wraps the entire design altogether by adding a non-marking and nonslip feature along with two essential needs on smoother courts.
However, this range runs one small shoe size; remember to go half or one size up when ordering these amazing shoes.
What is the difference between futsal shoes and soccer boots?
Although both these products are designed to play the same sports virtually, they share some key differences.
The surface of the sport is the basic differentiating factor. Futsal is played on hard courts, whereas soccer is played on synthetic grass or natural grounds. This is the reason Futsal shoes do not have cleats. The rubber sole is more durable and helps to provide traction on smooth surfaces like those in gyms. The soles of indoor soccer shoes are mostly similar to basketball shoes.
What materials are used to manufacture futsal shoes?
Best indoor soccer shoes are made of two materials: leather and synthetic.
Leather shoes offer higher quality and increase the player's comfort level and performance, but they are also pricier than synthetic shoes.
Read More- Best Indoor Sports That are Highly Athletic
How to take care of futsal shoes?
It takes more than cleaning your shoes to take care of futsal shoes and increase their shelf life. Taking care of the shoe material in a proper manner helps to increase the durability and preserve the futsal shoes. Here are some of how you can take care of indoor soccer shoes:
Leather- start by removing any trace of dirt using a clean cloth and then applying horse fat to retain the leather quality. This will preserve the softness and also improve flexibility of the shoes.
Synthetic- first step is to remove the insole to dry and then get rid of any moisture from inside the shoes. Keep the last inside the shoes so that it does not lose its shape and maintains tension.
Shopping Criteria
You need to consider various factors to buy the right futsal shoes for your indoor soccer game. The biggest consideration factors are the comfort level and right fit. Another factor is the flexibility of shoes, which helps prevent injuries and the shoes' sole closure systems.
Here we have discussed in detail the important buying factors of indoor soccer shoes:
Size
It is crucial to choose the right side of the shoes to avoid any discomfort. A wrong size shoe can negatively affect your performance and even cause pain during the game. Your shoes should always fit you right without being too tight or too loose. Always check the chart provided by the manufacturer to buy the right size for you.
Sole
Futsal shoes have two important roles to play for maintaining the player's stability- grip and traction. The best indoor soccer shoes will be resistant to abrasive surfaces like concrete or asphalt and also provide durability.Futsal shoes do not have cleats. These are ideal to use on concrete surfaces and even synthetic grass because of the excellent grip. Rubber sole fulfills all these purposes and does not wear easily.
Flexibility
Futsal shoes should be decently flexible to prevent injuries. When you run, your foot flexes, and you should not feel any resistance at the bottom of the shoes. If this does not happen, there are high chances of damaging the Achilles tendon or muscle injuries.
Getting too flexible shoes will not provide stability and reduce your game performance. There is a very fine line between the best and the rest. Always go for the best models available on the market, taking into consideration that the shoes adapt to the foot with time.
Weight
Whether you are buying shoes to play a sport, for the gym, or running., the weight of the shoes plays a major role in your performance and comfort level. Indoor soccer is a fast pace game, and lightweight shoes are ideal for the sport. A heavy-weight shoe can weigh you down and slow down the performance affecting your performance negatively during the match.
Closure System
The closure is important to determine your shoes' comfort and fit so that your shoes do not come off mid-play in the court. Shoes have different types of closure systems- velcro, laces, or both. Getting a combination ensures protection in case of the closure fails.
The Velcro closure system is easy to use and quick however does not provide the best fit. With time it can wear off and loosen. On the other hand, the lacing closure allows you to adjust the shoes the way you like and secure the foot properly. At times they may come undone but can be fixed quickly.
Final Words:
Buying a new pair of futsal shoes is no piece of cake. It requires an in-depth analysis of various key buying factors to buy the right shoe model and the right fit for your needs. Wearing any random shoe can have a negative impact on your performance and can even cause injuries.
You can find a wide variety of models on the market and can even get custom-made shoes for yourself if you are a professional. However, you pick your shoes, make sure to consider these key buying factors to make the right purchase.
If you like this guide, leave a comment below!