Dog Surfing: The Funny Weird Game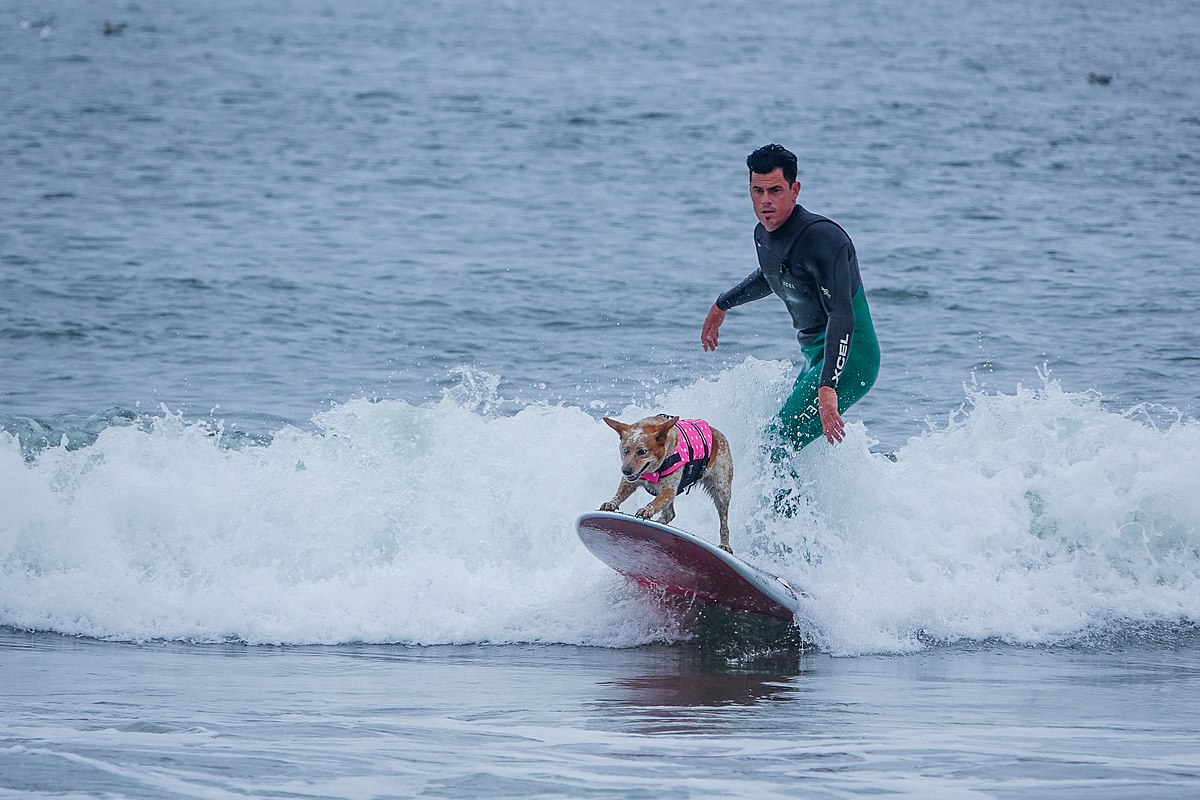 Do you love surfing? Yes? But did you know about dog surfing? No? Well, you are not alone in it as it is a weird and strange sport which is popular in only some parts of the world. 
However, it is one of the most fun and entertaining sports you can play with your little doggo companion. This is a sport which you and your dog both will love. What's even amazing is that it doesn't require anything specific for it. All it requires is some need for fun and a little dog training.
In the article, we will tell you all about this weird but fun sport of dog surfing. We will also tell you which dog breeds are best suited for the sports.
Dog Surfing
These are some of the things which you should know about amazing sports:
What Is Dog Surfing?
The dog surfing is exactly what the term sounds like – dogs surf on boards. It is one of the most popular sports for pets and their owners in some parts of the world.
In it, the dog not only surf on the surfboards but also on the skimboards, bodyboards, and even body surfing. The reason for this is the popularity of the game. Its popularity has also given birth to official dog surfing competitions held in various places around the world. In addition to all the above boards, you can also see dogs sitting on the paddleboards with their owners.
History Of Dog Surfing
The history of dog surfing goes back to the 990s. We can see dogs surfing with their owners in the region like Hawaii and California as early as the 1920s.
There was even a movie with the name The Wave in Waikiki, and in this movie, you can see a dog of terrier breed surfing on the board with his owner. In the movie, you will see the duo enjoying surfing on the beaches of Hawaii. During the surfing, you will also see the dog in the movie performing the stunts like "Hang ten." This movie can be said as the first official documentation of dog surfing.
Later in the year 1944, a magazine by the National Geographic magazines showed a dog, Rusty, enjoying some surfing. In the upcoming years, dog surfing became so popular that during the years 1950ss to 1980d, there were even dedicated shows for it. You can see various dog breeds surfing on the waves efficiently in these shows. The mix of Dave Chalmers and his terrier was featured in a number of surfing movies and other media.
In short, the people have been enjoying this fun activity for a long time now and for all the good reasons. So what can be better than surfing to develop a bond with your dog?
Competitions
The popularity of this sports has also led to the emergence of dog surfing competitions around the world. 
At present, there are a number of canine surfing competitions held around the world. The judging criteria in these competitions are according to various things. Some of them are:
Confidence in dogs while surfing.
Size and breed of the dog.
Length and size of the wave.
The intensity of the wave.
Stunts performed during the surfing.
Single or pair of dogs on a surfboard.
Dog training for surfing.
These are some criteria based on which the dog in surf competitions is judged.
Best Dog Breeds For Surfing
In general, you can go for any of the dog breeds when it comes to the extreme sports of dog surfing. However, some breeds are more suitable than others for this weird sport. These are:
Golden Retriever: This is one of the most popular and efficient dog breeds for surf games. The golden retriever with a little dog training can do great in the competitions.
Australian Kelpie
English bulldog.
Spaniel mix
Pitbull
Labrador
Whippet
Pug
Labradoodle
German shepherd mix
These are some dog breeds that are a perfect option when it comes to this sports. However, there are also some breeds like st. Bernard, which you should avoid in this weird sport. The reason for this is that the size of these dogs makes it hard for them to balance and surf on the waves. However, the secret to best-surfing dogs is equipping them with some basic skills of swimming and a love for the water. 
How To Train Your Dog For Surfing?
Dog training can be a task in itself when it comes to surfing. Thus to help you with this, we have prepared a small guide for you. Some things to know before training your dog:
When you start teaching, start with teaching your dog to balance on the board. For it, you can try some sand surfing first.
In the beginning, go for some small waves. However, while doing this, avoid placing the dog on the nose of the board if you don't want to take a spill.
The best place for the dog on a surfboard is ⅔ upside on the board and tail.
You should go for surfboards that are at least 7 to 9 feet in size when planning to surf with the dogs. This is essential so that there is enough space for both you and your dog in these extreme sports.
Be attentive towards the dog and if they are tired or hesitant, take a gap and give them time to accommodate.
Use the accessories like life jackets. But make sure that the dog is comfortable enough with using it before you begin training.
These are some of the things which you must know before you start training your dog and prepare him for dog surfing. 
Dog Training Steps
Follow these steps for training your dog:
The first thing to do is introduce your dog to the surfboard. Make them comfortable with it.
Praise your dog while he is on the surfboard and trying to balance on it.
Teach your little friend how to stay on the surfboard and how they can make balance.
Keep the dog focused on surfing and make sure they are not distracted by anything else.
Take them for regular practice so that they get used to the various board movements. This will help you when you go for actual competitions or large wave surfing.
Make them comfortable with the accessories like life jackets. Introduce them with such accessories and make them wear them so that with time they get comfortable with them.
Help them build confidence in the water. Introduce them to the water and sea. Male them enjoy it.
Let them practice. Allow them to practice what they learn from you while you train them.
You can also use clicker training to make your dog learn and stay in positions while on the board.
These are some of the steps which you should follow to train your dog. The good thing about these steps is that if you follow them, you can easily train your four-legged companion.
These are some of the things which you should know about dog surfing. Overall it is weird but fun sports which you and your dog friend will surely love.
Final Words
Does your dog like water? Or do you like surfing? If yes, then why not try something fun like dog surfing with your four-legged friend.
Yes, dog surfing is a thing, and it is quite popular in various parts of the world. The good thing about it is that you can easily train your dog for it, and once you are done, it can be an activity that will develop the bond between you and your dog.