Kayaking Clothing- What to Wear Kayaking?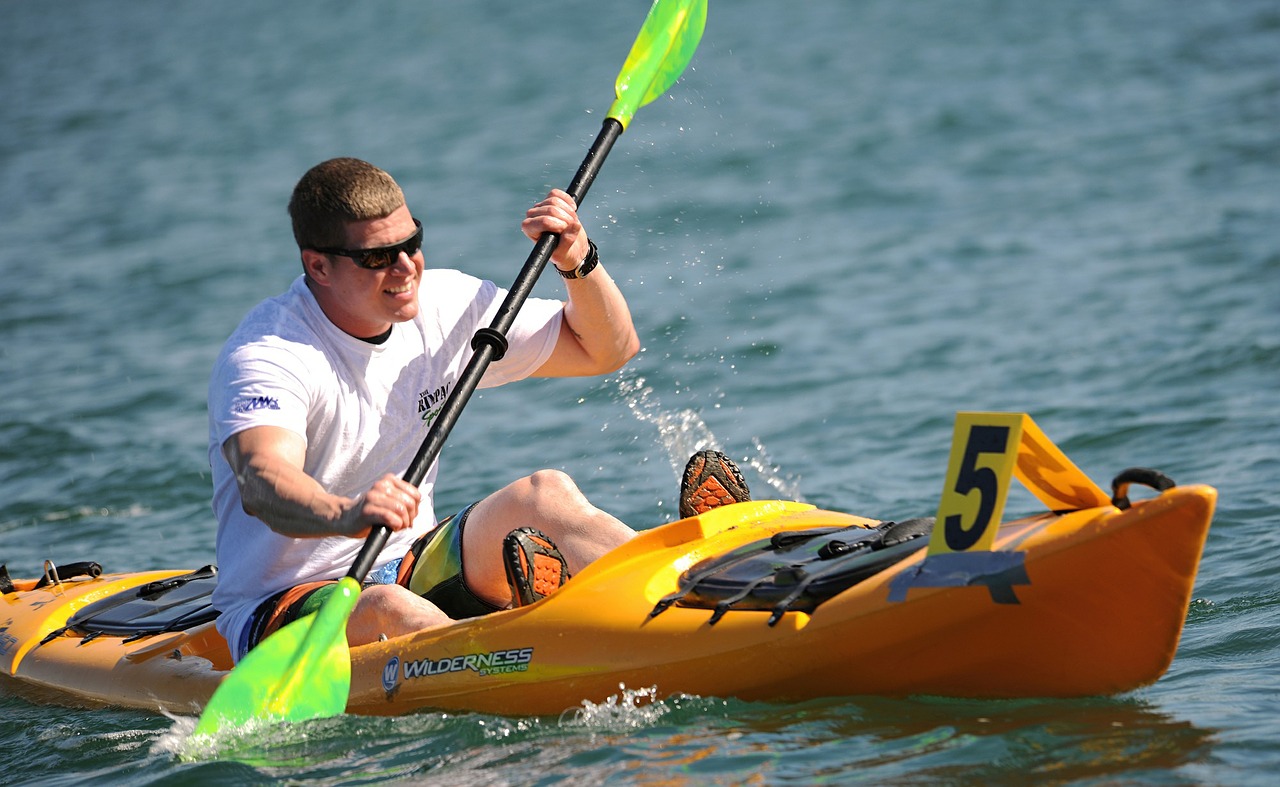 Want to know what to wear to kayaking? If so, then we have covered everything you need to know in this article. From kayak clothing to gear to shoes, we have mentioned it all.
Similar to other outdoor activities like hiking, kayaking also requires durable, comfortable, and versatile clothes when you are on the move. You would want to stay protected from wet and cold conditions.
When deciding what to wear to kayaking, follow these guidelines:
Personal flotation device- always wear your personal flotation device and do not take it off until you get off the water. Find a place to take out when you need to adjust the top layers. You can also try "raft up" with your kayak buddy holding the boat firmly while you change. 
Warning– changing onshore is always better than when in water.
Dress right for water temperature- you should choose your kayak clothing according to water temperature, not the air temperature: wearing a dry suit or wet suit.
Layers- dressing layers will help, especially on top.
Sun protection- regardless of the cloudy sky, when spending a day on the water. Sun exposure cannot be limit. Wearing UPF rated fabric in your kayak clothing is a wise choice and also do not forget to apply the sunscreen.
Avoid cotton clothes- no matter how many layers you wear, avoid wearing cotton. It absorbs water and can stay wet for a long time, instead seek quick-drying fabrics for your kayak gear. Any clothing that will touch your skin should be quick-drying, polyester, or nylon.
Comfortable clothes for easy movement- always wear clothes that are comfortable for long sitting and will let you move comfortably.
Abrasion-resistant fabrics- pick abrasion-resistant fabrics that are rugged and strong enough to fight wear and tear in the sand and rough materials suitable for a kayak.
Avoid rustable fasteners, zippers, and hardware- water and especially salt water can corrode metals easily: so rugged plastic hardware is always a good alternative. 
What To Wear for Kayaking in Summer or Mild Conditions
Underwear– when paddling in warm conditions for a shorter duration, people chose to wear swimsuits as their first layer. Always keep in mind the above-mentioned guidelines when choosing the fabrics. Otherwise, you can also pick synthetic sports bras and underwear.
Tops- wear rashguards made with nylon or polyester blended with Lycra or spandex are the perfect choice for water sports because they stretch well, are quick-drying and have high UPF ratings to give complete protection against sun damage. These form-fitted and flat-seam construction makes them comfortable when worn as a wetsuit or worn under layers.  You can also wear your favorite wool or synthetic base layer.
Water shirts- water shirts are different from rashguards. These are loose fitted and also offer UPF protection. If you are not swimming, then these will be the right choice.
Bottoms- you can wear any bottom that you find comfortable and is quick-drying. Quick-dry pants or brad shorts are good options. Avoid wearing bottoms that are tight or chafe. Superthin fabrics are also not a great idea because these cannot stand continuous shifting in your seat while paddling.
Mid- Layer- if the weather or water conditions do not require you to wear a wetsuit or drysuit, then carry along a fleece jacket or any synthetic warm mid-layer.
Outer Layer- if you expect rain or wind, then choose to wear a breathable/waterproof jacket and rain pants. Paddling jackets have gaskets at the neck and wrist to keep the water out. If you are going for a short kayaking trip and do not expect rain, then a water-resistant or breathable jacket will also work fine.
Footwear- similar to kayak clothing choosing the right kaya shoes is also important. Neoprene paddling booties are the best shoes choice for kayaking because they are water ready, lightweight, and protect your toes and feet. If you don't have these, then wear any footwear that works in a similar way. Avoid wearing water sandals, these will be less protective for your feet and can collect sand, gravel, and muck underfoot during takeouts and put-ins. 
Avoid wearing shoes without back straps like flip-flops, these can easily slip off your feet. If you are expecting rain or wave splash during kayaking then wear waterproof socks or paddling booties. 
Hats- Look for caps or hats with wide brims. You can also choose cap leash if you do not own chin straps or any reliable way to secure the hat. If cold weather conditions, you should wear a snug fit beanie over the hat.
Goves- Paddling gloves are a good choice because they provide protection against blustery day and blisters. Pogies are also a good option for cold conditions. These will help fasten the paddle by providing a good grip to the shaft.
Glass Retainers- carry glass retainers that can float on water and always keep it attached.
PFDs- personal flotation device is important for kayaking even when you plan to paddle up close to the shore. PFD can provide big protection against drowning in water. PFD will keep the body warm and afloat without you having to rely on swimming prowess solely.  Do not step into the boat without wearing a PFD. 
What to Wear for Kayaking in Cold Conditions
Have you ever put on a wetsuit after you capsize? A wetsuit should be put on before you get in the boat. The strategy is the same, whether it is your millionth trip or first: dress for submersion, not the success.
Capsizing risk in cold water, range from the immediate heart and lung shock to drowning and even hypothermia. Do not put on a wetsuit after you capsize because now its too late.
Wear a dry suit or wet suit if you are paddling in protected close waters-but is not reccomended for the mildest condition. Wear anyone when the temperature is 60 degrees Fahrenheit or cooler.
Wetsuit offers minimum protection against cold weather and water conditions. These are typically made of neoprene. It insulates, holding a thin water layer next to your skin. 
A drysuit is used in colder conditions. This is made of waterproof material and also has watertight gaskets to keep you dry. You can adjust the warmth by wearing long or insulated under layers.
How to Layer With a Wetsuit or Dry Suit 
When choosing layers, consider the warmth of your drysuit or wet suit and also PFD for kayaking.
Layering With a Long-Sleeve Wetsuit
Base layer: the warm water of teh wetsuit cancels the need for a wicking base layer. Wearing swimwear underneath is nice to remove your wetsuit later without changing in the private areas.
Mid-layer: the warm water and the thickness of the suit itself insulate the body. You can choose thicker wetsuit for colder conditions.
Outer layer: the wetsuit is both windproof and tight so you do not usually require any outer layer if you have a long sleeve wetsuit on.
Layering With a Sleeveless or Short-Sleeve/Shorts Wetsuit
Wear a quick-dry top layer underneath the wetsuit to cover any exposed body area. A long-sleeve rashguard or base layer works well for both hot weather and sun protection. Wear something heavy if the air is cool.  Bring along a fleece jacket and paddling or rain jacket to cover arms if the weather is cold and wet.
Layering With a Dry Suit
Base layer: a dry suit works like a raincoat with watertight seals; therefore, you will not require to wear non-cotton long underwear. You can even buy drysuit liners and drysuits with fleece lining.
 
Mid-layer: for cold weather conditions, add a thick clothing layer over long underwear.
Outer layer: your drysuit is windproof and waterproof; therefore, you do not require any outer layer.
Final Words:
Kayaking is a fun water sport if you wear the right kayak clothing and carry the right kayak gear. It is important to consider water conditions and weather when choosing clothes and kaya shoes. This article provides all the general guidelines and lists of what to wear to kayaking. 
It is always best to wear quick-drying and synthetic material clothes instead of cotton because it absorbs water and takes a longer time to dry. Similarly, wear waterproof socks and shoes that are fit for water sports. If you have confusion choosing the clothes for summer and colder weather, then consider the guidelines mentioned in this article for help.