What to Wear for Indoor Rock Climbing?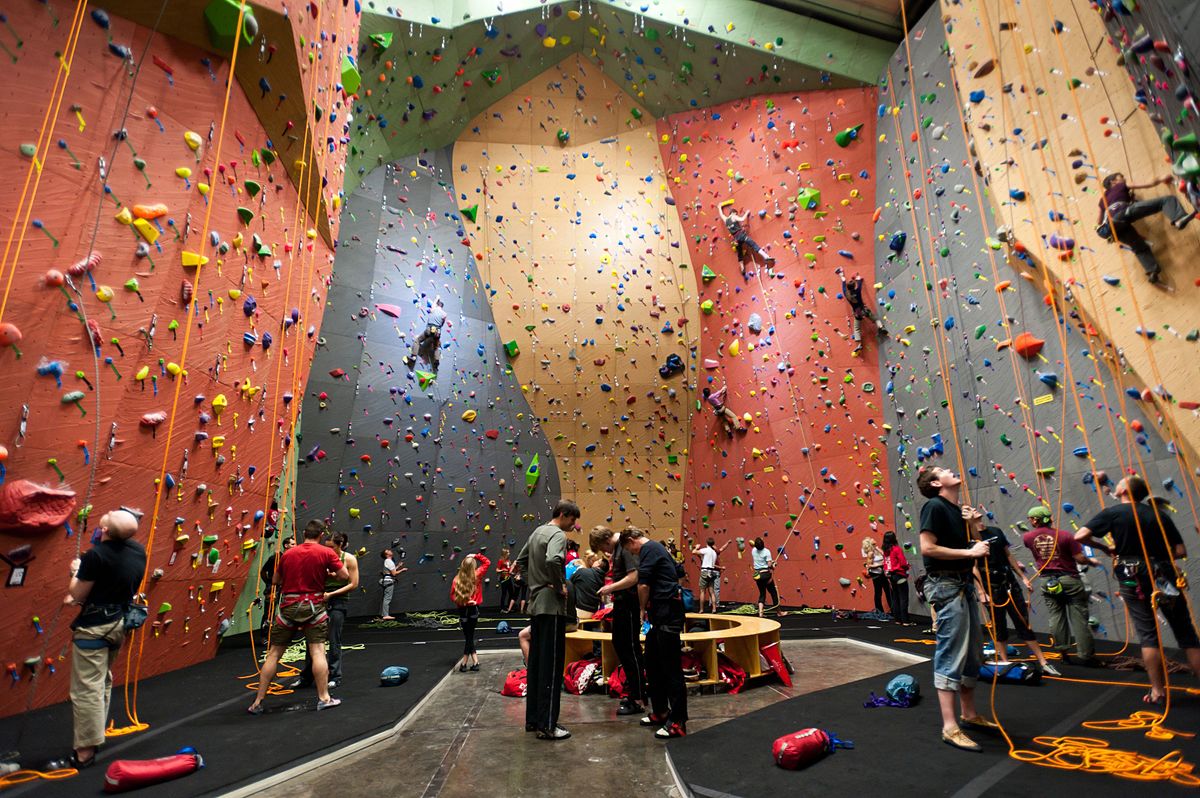 If you are planning to go for indoor rock climbing and wondering "what to wear for indoor rock climbing," Do not worry; there are plenty of clothing options for you.
Rock climbing tests your physical ability by making the muscles burn perfectly and mental capabilities by demanding complete awareness.
Along with different types of new techniques, you need to learn, like-fixing footholds, finding routes, voice commands, and tying knots: many beginners are not sure what to wear for rock climbing. However, searching for the best clothes to wear when climbing is not super intuitive. 
First off, do not overthink; just keep it simple. Climbing is a bit of exercise–so if you have gym clothes, then you are all set to climb. Although every climbing gym will provide shoes for rent. Clothes for the rock climbing gym should have the following characteristic:-
Do not restrict movement; either wear stretchy or loose clothes.

Clothes should be comfy.

Clothes must be breathable and lightweight because you are gonna sweat. 

The pants you are wearing should allow you to see your feet. Thus making it more comfortable for you to climb safely.
What Top Should I Wear for Indoor Rock Climbing
Any gym top or any t-shirt will be fine. Ideally, it should not be too baggy, so it does not get in the way or stuck in belay devices. Long sleeve t-shirts can be helpful to help stop bangs and scrapes. Our best option for guys would be the slim fit, breathable, stretchy, moisture-wicking t-shirts.  For women, they can use the same as men, or they can use a loose tank top and a sports bra for more comfort.
What Pants Should I Wear for Indoor Rock Climbing
Yoga pants or shorts will be best if you are going rock climbing for the first time. Shorts should not be too short as it can be disturbing; they get caught up under the gear.  Shorts just above the knee are perfect. You will be scraping the knee and banging your shins up the wall a fair bit so think something such as capris or anything that provides a little protection.
If you like to do climbing, then we do suggest getting rock climbing pants. Pants made for rock climbing are typically a little baggy and have a gusseted design. These pants are great for protecting the legs and come in handy when you plan to go for the first time.
Is it a Good Idea to Wear Jeans for Rock Climbing
Yes, it is, and you will see many people wearing skinny jeans for blundering or climbing. You might be thinking that just how people wear jeans without restricting their movement. Well, the answer is lycra, also known as spandex or elastane. Some purpose-made rock climbing jeans are built with a gusseted crotch and some extra stretch. This allows you for huge split movements while protecting the legs from climbing holds.
Some big brands offer stretchy denim—-not just rock climbing ones. You can select stretchy jeans from online stores or in some retailers too. Jeans are best because you can wear for casual and for climbing, and it also provides protection and the stretch needed.
What Types of Shoes Should I Wear For Indoor Rock Climbing
Well, you can rent rock climbing shoes from most of the indoor climbing gyms. These shoes have sticky rubber on the sole that helps to hold a grip better. They may be pretty tight, and the toes might be curved up a little at the front. We suggest that you try renting shoes a few times to get used to the fit and feel. 
Is it Best to Wear Socks With Climbing Shoes?
If you are going for rental shoes, then we do say yes. Rock climbing shoes are intended to be worn without socks for a comfy and tight fit that gives you more hold on the rock. However, rental shoes have been sweated in and used by so many people. For hygiene purposes, we suggest wearing a thin ankle sock at the time of renting climbing shoes.
What Can I bring to Indoor Rock Climbing?
Well, you probably will not need to bring any other gear apart from clothes. Belay devices, chalk, harnesses, and other climbing gear are usually provided from the gym. You just have to bring three basic items:-
You can take snacks like a protein bar or mixed nuts or fruit energy.

For Water Bottle, do not buy single-use plastic; get a sipper or reusable bottle for water.

 Take slip-on shoes for using in the bathroom or when belaying.
Final Words
Knowing what to wear for indoor rock climbing can make the entire experience more fun. Whether you are heading for multi-pitch climbing or going to a local indoor rock climbing gym, being comfy in the best climbing clothes leaves more time for you to worry about the task at hand. Moreover, if you are new to rock climbing, then check the rock climbing guide for beginners.
If you find this information useful,  drop a comment below this section.