Scariest VR Horror Games for a Thrilling Experience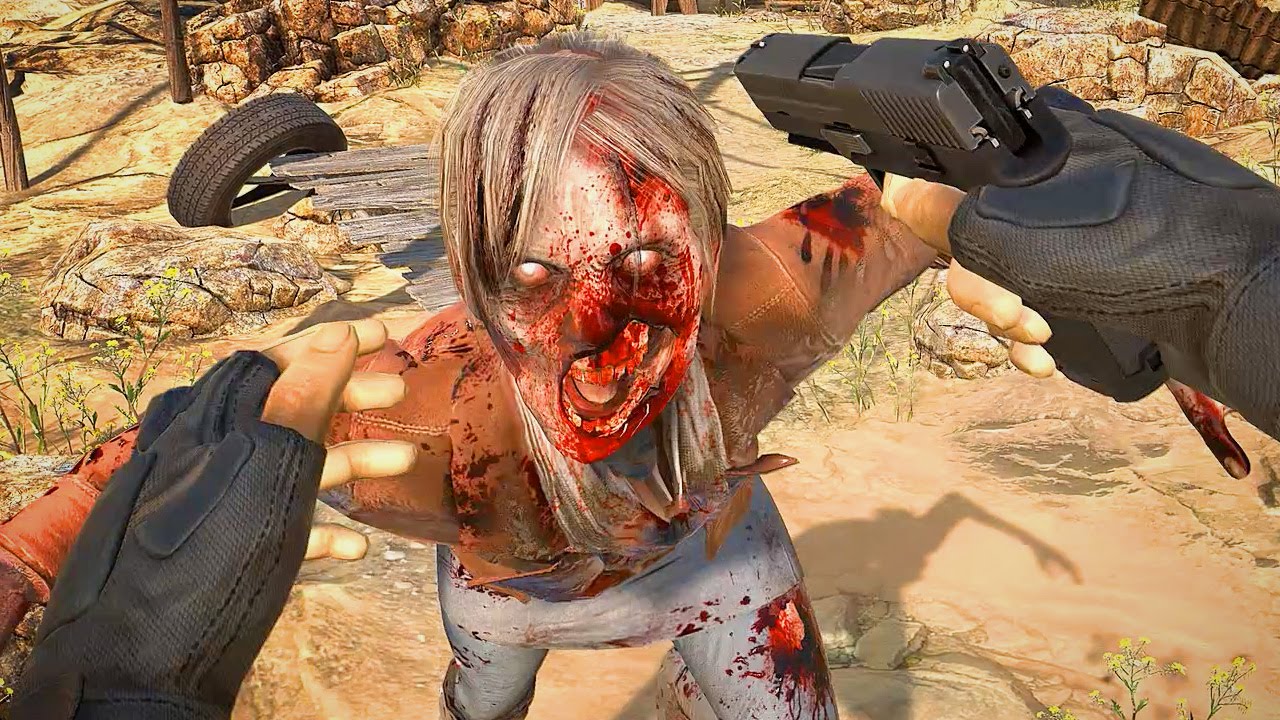 If you are a person who loves horror stuff, playing VR horror games is a must for you. In the past few years, VR has grown up in a remarkable way, and it is continuously flourishing in the gaming industry. It adds to the gaming experience by making it more lively and enjoyable. 
If you have a VR headset and are looking for some scary VR games, then you are at the right place. There is a never-ending list of scary games, but we have rounded up a list of scariest VR horror games that will make your blood run cold.
Best VR Horror Games
For years, fans of the horror world have enjoyed screaming and jumping at movies and RPG horror games. VR takes all of that fun to another level by providing you with a more lively experience. Here are some of the best VR horror games you should try.
Resident Evil 7
Genre: survival horror
Platform: PS4, PC, Staida, Nintendo Switch, Xbox One, Amazon Luna
If you are looking for scary VR games, PS4 offers, then nothing can beat the horror and terror of Resident Evil 7. Resident Evil is one of the best survival horror game franchises. The development team of this franchise, Capcom, has released various video game titles under the banner. Among all, Resident Evil 7 is the best and provides an amazing gaming experience.
In this scary VR game, the players are put into the shoes of a protagonist named Ethan. He is looking for his wife, which leads him to the Baker family. The game has top-notch survival horror and gameplay for which Resident Evil is popular. Moreover, the touch of UR headsets makes it scarier and provides a better first-person perspective.
Arizona Sunshine
Genre: first-person shooter
Platform: PS4, PC, Valve Index, Oculus Quest, HTC Vive, Windows Mixed Reality
If you are looking for the best first-person shooter games, then Arizona Sunshine is the right pick. It is a zombie survival game for a VR platform in which you need to fight undead enemies. There is a campaign in this scary VR game in which the players have to find other survivors sending messages through a radio tower.
Moreover, the game also requires the players to gather weapons and resources as they handle groups of undead zombies roaming openly around. The players also get an open map where you can find the areas in which you can roam freely and line up shots against the zombies. One amazing feature of this game is that it allows four players to connect online. They can work together in the game through the campaign.
The Walking Dead Saints & Sinners
Genre: horror survival, first-person shooter
Platform: Playstation VR, Steam, Oculus Quest, Oculus Rift
This game is a must for you if you want to explore a terrifying world. It is among the best VR zombie games that take you to the world of the walking dead. This game is the right pick for the fans of undead zombie shooter games.
In this scary VR game, players step into the scary world of The Walking Dead, in which you can play the survivors who are stuck in New Orleans. The titles for each player in this game are unique. You get the ultimate right to decide what to do. From going through the game and collecting resources, there are different points where you will meet other survivors.
Some survivors may be more friendly than others with a requirement of help, while some might be just hostile. Nevertheless, it is totally up to you how to handle the situations. You can either help the ones in need of murder them to progress in the game.
Alien Isolation
Genre: survival horror, stealth, action-adventure
Platform: PS4, PC, PS3, Xbox One, Xbox 360, Linux, Nintendo Switch, OS X
When it comes to the scary VR games, PS4 offers, Alien Isolation is among the best. It is not only a popular VR title but also a famous horror game. In this game, you need to play the role of Amana Ripley, who is the daughter of Ellen Ripley. This show is set after the fifteen years of Alien film in which Amanda jumps off on a new quest where the flight recorder for the ship of Ellen was located. With the hope to find the answers to the questions like what happened to her mother and how she went missing, Amanda has to go through an adventure full of horrors.
In this VR horror game, players can use an iconic motion tracker in order to locate different Alien locations and stay out of sight when a location pops up. The use of VR in this game allows the play to have an immersed gaming experience.
Red Matter
Genre: Puzzle, Adventure
Platform: PS4, PC
Red Matter is among the best PS4 puzzle games to test your brain. Moreover, it is also a horror game which makes it one of the best VR horror games. It is a story-driven adventure game that takes you to a creepy atmosphere. This one is not among the games with jump scares so, if you are looking for a game that is horror but does not have jump scares, then this one is the perfect pick for you.
The game is set in a dystopian Cold War setting in which players have to play the role of an agent who has to explore an abandoned base situated on a Saturn moon. Here you need to dive deeper to find out what is going on with the major experiment held at this place. The gameplay is more puzzle-solving. It is a lightweight horror game that you will enjoy playing and is perfect for testing your brain.
Affected the Manor
Genre: adventure game
Platform: PS4, Oculus Go, Oculus Question, Microsoft Windows
If you are looking for the best VR horror games, then this one's for you. It takes you to an abandoned home where you have to explore the house and its mysterious rooms. Each area of the house has puzzles. Jump scares and creepy atmosphere, making it one of the most interesting scary VR games.
The game is a bit leiner, so do not get confused with where to head next. The touch to VR mode to this makes it more appealing and interesting. The developers of this game also added a speedrun mode to it. Moreover, it has a mode in which the players get only one small candle as a light source which makes it more scary and interesting.
Narcosis
Genre: Adventure
Platform: PS4, PC, Linus, Xbox One
Narcosis is a slightly different type of horror game. It is more of a survival horror game in which players find themselves in the bottom of a huge ocean. They are stuck in a technically advanced diving suit with a little time to spend wandering around as they need to find their way back to the surface.
You get little oxygen pumped into your suit, and you need to look for oxygen in order to resupply the suit. Similarly, there are other horrors that take place on the ocean, that you need to handle with sanity. It is a short game, you can easily complete it within three hours.
The Forest
Genre: survival horror
Platform: PS4, PC
This game was a bit hit when it was released, making it one of the scary VR games PS4 offers. In this game, the players have to travel with their son after a forceful crashing of the plane which takes it to a secluded island. Upon waking up, you see that the entire plane's crew has lost their lives and the passengers are also dead. However, your son is missing.
Now, you have to explore the deep forest and different caravans with the hope of finding your child.While exploring, you will find that you are not alone, as this island is home to different mutated cannibals. Trust me, you will love this game as you don't know what to expect from this island and the animals.
The Inpatient
Genre: survival horror
Platform: PS4
This one is a supermassive game and is among the scariest VR horror games. This game is set in the Until Dawn universe and is set before sixty years of the storyline of Until Dawn. In this survival horror game, you need to play the role of a patient suffering from amnesia. Moreover, you are locked in a Blackwood Sanatorium in order to get treated. You find yourself stuck in a mad and freakish world. This place is full of horrors, and players need to find a way to escape with free life.
Phasmophobia
Genre: Survival-horror
Platform: PC
If you love psychological horror, then this one's for you. It is a four-player co-op horror game in which players need to team up as a paranormal investigator. You need to deal with different ghosts and missions and head into the building with the attempt to capture the hauntings and ghosts around. The VR feature of this game provides a more immersive experience. You can also play this game without VR mode, and it does not change the thrill of this game at all.
Until Dawn Rush of Blood
Genre: Rail shooter
Platform: PS4
This game was a big hit when released and is among the most loved scary games PS4 offers. It is a cinematic horror game that provides a wide range of choices to the players to alter the storyline. This is one of the best VR shooting games that will give you an overwhelming gaming experience.
In this game, the players ride on a horror-themed roller coaster in which they are forced to shoot a wide range of demonic objects and enemies. As this game is played like a rail-shooter, players have not a lot to do other than pointing and shooting.
Wilson's Heart
Genre: Adventure game
Platform: PC
This one is an Oculus exclusive game in which the players are put into the role of Robert Wilson. He is trapped in a hospital. When he wakes from the surgery, he finds that his heart was stolen, and instead of that, a mysterious device is placed.
Now, Wilson needs to venture through this horror and psychological thriller not only to find his heart but also to find out why it was stolen. This game is completely played in black and white and is bound to terrifying times with different kinds of monstrous and creepy enemies. Meanwhile, in order to complete the game, the players need to roam around the hospital, completing different cryptic puzzles and meeting NPCs.
Dreadhalls
Genre: Adventure
Platform: PC
This one is a giant horror puzzle game. In the game, the players are put into a dark and deep dungeon full of different rooms with corridors. Here the players need to find an escape. However, it is not easy as there is a wide range of demonic creatures roaming in the house.
You do not have any way to fight back. All you need to do is simply feel and escape from the monsters when they see you.
You get a small source of light in order to see what's ahead. In order to keep the light on, you need to find oil. If you find this game interesting, then there are different procedural levels in it, which means that every time you play this game, you get a randomized map.
Final Words
These VR games are not to be taken lightly. Once you put your headsets on, there is no running out. You will actually believe that all the terrifying horror in front of you is real, even for a second. If you are brave enough and love horror games, try the best VR horror games and share your experience with us by dropping a comment.