Essential Clothing and Gear for Snowboarding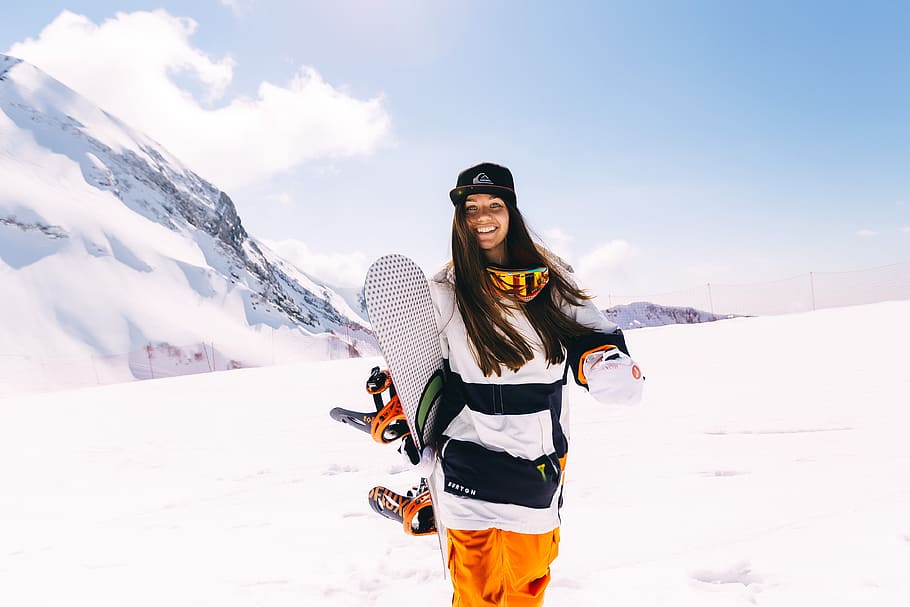 Snowboarding is fun but not without proper snowboarding gear. There are many essential snowboarding equipments and clothing items that keep you safe and comfortable.
If you need help choosing the right gear for snowboarding, then this article is for you.
Of course, you can rent the snowboard equipment and clothing at the snow sports store or at the resort. Proper snowboarding outfits includes so much more than just winter gloves and jackets.
Clothing for Snowboarding
Wearing the right clothes on the hills is not just a matter of style. You need proper clothing that will keep you warm and comfortable in the snow. Layers will be the savior.
When you go down the hill first time, your body is not warmed up. When your body starts to get warmed up as the day goes by, you will want to get rid of some layers.
Here are some tips for dressing for snowboarding without being overdressed.
Thin polypropylene or cotton socks to absorb moisture from the feet.
Thick wool or ski-specific socks to wear over the thin cotton socks.
Long underwear bottoms to keep away the moisture.
Layer sweatpants in very cold weather conditions.
Long-sleeved, tight-fitting underwear top that is moisture-wicking.
A wool or fleece sweater or a cotton sweater will also work for you.
Fleece or polyester beanie, or a wooden hat
Snowboarding Gear
Once you have the right warm clothing, you will need snowboard specific gear to give you the best performance on the snow and keep you dry too.
Here is a list of things that you will need:
Waterproof or water-resistant, snowboarding jacket or ski jacket.
Waterproof or water-resistant ski pants.
A pair of gloves appropriate for snowboarding
Snug-fitted snowboard boots to keep the feet warm.
Goggles
Safety and Other Gear
Getting injured can ruin your day. Snowboarders tend to get sprains and broken bones because they fall while learning and tricks they do in the terrain parks.
Here we have a listed essential safety snowboarding equipment and gear:
Helmet
Knee pads
Wrist guards
Butt pads
Stomp pad to provide traction
Some other gear that you can carry to make snowboarding more fun and enjoyable:
Neck gator
Glove liners or thin polyester gloves
mittens
Hand warmers
Headband (to cover ears)
Small backpack or sling bag
Camera
Sunblock for your face
You would want to gear up before driving up to the mountain, so you will need to haul the gear. Get a boot bag if you own snowboarding boots. This bag can hold your goggle, gloves, knee pads, wrist guards, sunblocks, and even snacks and water. If you are renting boots and board, then carry a tote bag, backpack, or a sling bag.
Final words:
Snowboarding is a fun and exciting outdoor sport. Spending your weekend on the snow with your friends and family sounds so perfect. However, you need essential snowboarding gear and clothing to keep you warm, comfortable, and safe when you are on the snow. We have listed all the necessary clothing and equipment for snowboarding that you should have before you make your first trip downhill.