Best PS4 Games For Girls To Play In 2021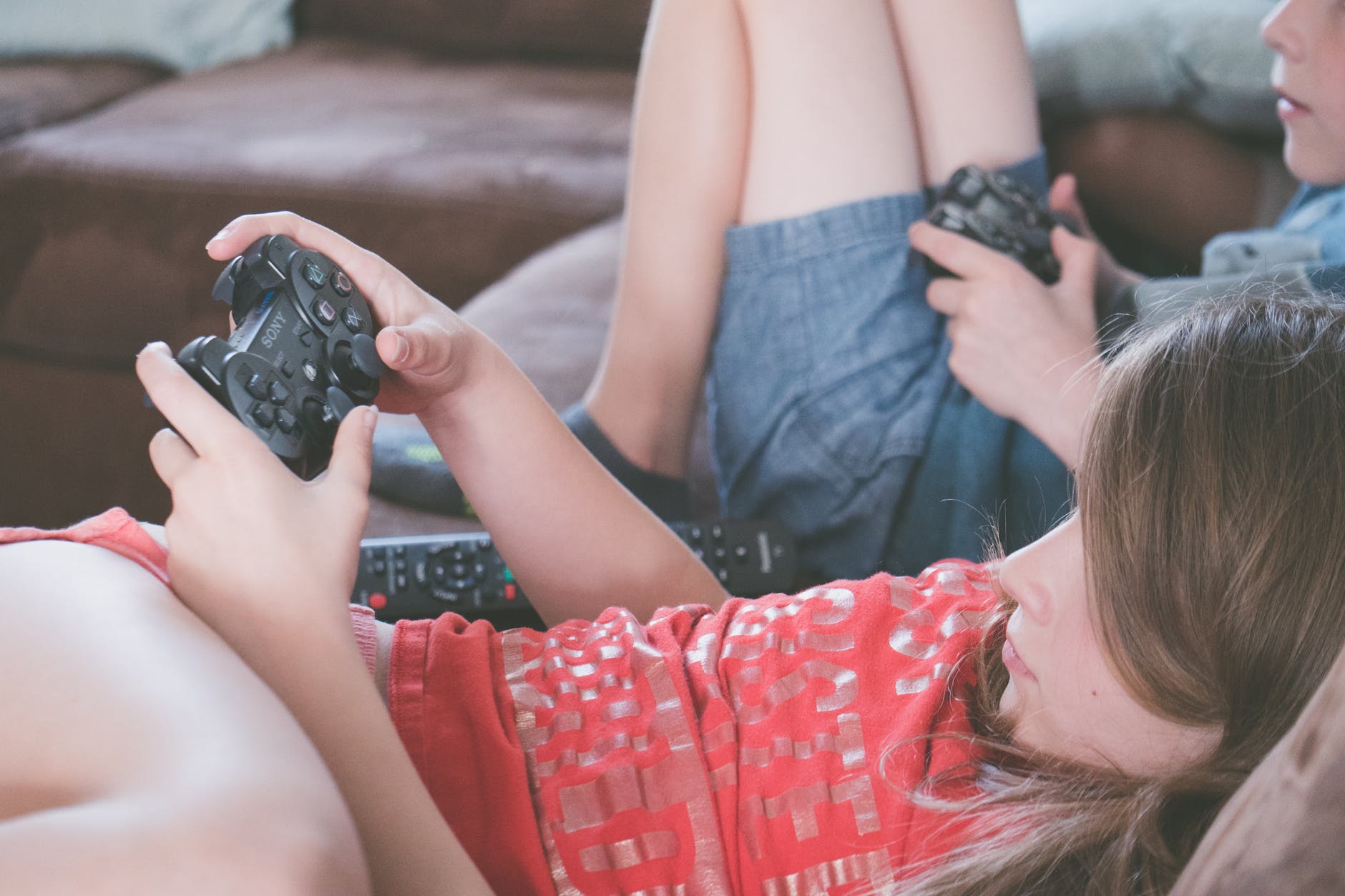 Gone are the days when gamers were only teen boys; now, even girls have taken the gaming world by a hit. New parents have grown up as gamers, too, so introducing your little girl to video games shouldn't come as a surprise. A lot of video games are violent and loud, which are not appropriate for little girls. Fortunately, we have curated a list of the best PS4 games for girls that are suitable for every age young girl.
If you are looking for some amazing birthday gifts for your daughter, look no further to get her a new PS4 and introduce her to the exciting world of video games.
Best PS4 Games For Girls:
Below we have mentioned amazing games for girls that have easy gameplay, amazing graphics, exciting music, vibrant colors, and an engaging storyline.
Forager
If you are into adventure games, then you are definitely going to love playing this one. Forager is among the fun ps4 games for girls in which the player has to pass through large areas gathering resources, objects, building tools, and solving puzzles on the way. This game also involves various simulation activities like farm, mine, cook, perform magic, manufacturing, etc.
Forager has been getting many positive reviews from critics. When you take part in more activities, your character will meanwhile earn more XP, which will allow it to advance levels and stages. During your journey, you will also have to fight enemies and NPC.
Crash Bandicoot N. Sane Trilogy
Crash Bandicoot is among those PlayStation 4 games that are not only good for girls but also boys. Although some p[eople may find it difficult to play, the recently remastered version includes all three games in a colorful art style that will attract young players too.
In this game, the player has to go through various levels as Crash and can also play with other characters too. This is among really cool video games for girls where they have to stop the evil Doctor Neo Cortex.
Sonic Mania
Sonic Mania is one of the famous versions of the Sonic game that was released on various platforms. It is a perfect find for people who are looking for fun girl games online.
Sonic Saga influences this game and also includes side-scrolling stages in which the player has to fight the obstacles in order to complete the task and win the game. Players can play as Sonic, Knuckles, and Tails while they try to defeat Sonic's enemy Doctor Eggman.
Horizon Zero Dawn
This is one of the best PS4 video games for girls that features a female character. If you have a daughter, then it's the right time to introduce her to such amazing PlayStation 4 games for girls.
This game is apt for teens and also revolves around some adult themes too. However, this game is not for adult players who like JRPG Games. Young girls will thoroughly enjoy the complex female character in the game. 
The Sims 4
Sims has been a favorite game of a lot of kids, and there is a reason why even today's adults remember the times they used to play Sims games. However, many versions of Sims are not based on adult themes and are appropriate for young girls.
SIMS 4 is one of the best fun girl games available online from the SIMS family. This game can get very addictive and fun to build your own characters and building and also play complex storylines and make unique families. The best thing is that Sims 4 allows space to do customization for creative kids.
Overcooked
If your girl loves to play cooking games, then you should introduce her to the super fun free PS4 games for girls to play right now. Overcooked is the best cooking game that allows multiplayer features to cook perfect meals frantically. With short time limits and quirky kitchens, your girl will have a lot of fun while saving the Onion Kingdom.
This is a sun and chaotic game which can be played with friends and is the best sleepover game to bond with other little princesses. Get ready to cook some extravaganza dishes.
Yooka-Laylee
Every little girl loves to play colorful, loud, and bright games and Yooka-Laylee is exactly that. This game has two characters, a green lizard named (Yooka) and a bat with a big nose named(Laylee). You have to pass five different giant worlds collecting pagies in the way to fight corporate creep Capital B.
This is one of the cool video games online, which is full of creatures, puzzles, and enemies. Yooka-laylee is a perfect modernization of platformers of the heyday. Get your little girl ready to save the day.
Minecraft
If your daughters are a fan of imaginative adventure filled with creativity, then Minecraft is the perfect game. This simple-looking game is filled with imagination and allows your mind to go wild. Your girl's mind will be free to create anything their heart desires using the blocks. Whether she wants to dig deep into the earth or build a big castle, everything is possible in Minecraft. No wonder this is among the most fun PS4 games for girls.
Flower
A flower is one of those games that lets you escape the dreamy, minimal world and leave all the chaos behind. This game features stunning visuals and vibrant colors that mesmerize your little princess and even bring out her artistic side.
She has to carry beautiful flower petals all across the landscape and watch them grow on their own. Players can fly over the lush landscape and enjoy the calming flowers. The best part is that this game can also be played on old PS Vita and become a favorite on-the-go game when in the car.
Journey
This game is also an invention of Flower's creators and is also a dreamlike world known for its indie titles. You have to pass the desserts and ruins while joining the mysteries together around you. The goal of the game is to reach the mountaintop and find the lost civilization. The games work on basic controls and simple objectives, which makes it a perfect journey for young girls.
Abzû
Children have inquisitive nature naturally, something that we all wish to carry on as we grow older. The Abzu game works on that inquisitive nature and intends to provide an out-of-the-world experience of underwater lives.
The player can take full control of the diver, swim across the ancient ruins, and find beautiful creatures and long-lost secrets in the sea. When you are on the adventure, you will come across many different fishes to admire and learn about them. This is one of the most fun and attractive girl games available online.
Just Dance 2018
Kids are real-life energy bubbles, and keeping them still in one place for more than five seconds is a task. So why not use this energy for something good? Just Dance8 is the perfect way to tire the kids before bedtime and get them to bed early.
This game is perfect for a little diva who loves to dance around and show her new moves. It is full of more than 300 great and latest hit songs, and we are sure there is gotta be at least one that is her favorite to shake legs on.
Tearaway Unfolded
Tearaway is a game made of digital paper. Your character Atoi has to make an important delivery, and you have to help her out. By using DUALSHOCK 4 wireless controller, you can hurl up the objects, blow wind and unveil objects in imaginative ways.
LEGO Harry Potter Collection
Harry Potter is the most favorite series of the '90s, and we are sure your daughter has a soft corner for it. Whether you are a proud owner of endless harry potter merchandise or boxset, getting into the magical world of harry potter is a dream of every kid and even many adults too.
Introduce your little girls to one of the best PS4 games for girls and let her dive into the magical experiences of the LEGO harry potter collection. The games feature the three popular characters Harry, Ron, and Hermoine, as they set upon their journey through the world of witchcraft and wizards.
Ori and the Blind Forest
Another most loved game on our list of top PlayStation games for girls is Ori and The Blind Forest. According to critics, this is one of the best video games for girls on Windows 10.
The kid's imagination is the limit to this game, and they can come up with as many new ideas as they like. This game is perfect for inspiring little gamers who like to think beyond their imagination.
This game has superb graphics like any other high definition game and works on the art style and design concept. It is perfect for kids between the age of 8-16 years.
My Little Riding Champion
If your baby girl is a fan of Black Beauty or other horse movies, she is bound to like this game as well. This game has pretty simple gameplay in which the character is a part of a riding club in the village. She has to choose a horse to win the next riding competition.
You have to train the horse and know about its qualities better. This will increase your chances of winning in the game. Players can also go on a ride around the countryside and enjoy breathtaking views. This will make you feel as if you are actually strolling in the countryside. You can go out with your horse to complete several missions, and each winner will get you new equipment or accessory to wear.
Celeste
Celeste is another one of those cool video games for girls on our list. This game is women-oriented and will inspire you, little girls, to play with the flair. According to critics, this is one of the best retro games for girls on ps4.
You have to help Madeline climb up the Celeste Mountain. It may sound easy, but she has to pass various demons in her way. This is an exciting game with a beautiful storyline narrative that will make you feel as if you are the real character.
Sometimes you may feel lonely or lost in the game, but you have to keep pushing yourself to climb the mountain and reach your goal. The game has several hidden challenges and secrets, and some chapters can seem really difficult to open.
Your baby girl will love the music, which makes the game even more exciting. This game is suitable for girls above five years of age.
Final Words:
PS4 is highly popular among people of all ages. You can do so many things with PS4, from watching DVDs to adding internal storage, playing with your friends and listening to your favorite music, and so much more.
All the fun PlayStation 4 games for girls mentioned above are appropriate for kids above the age of 5 years old. You will not have to worry about keeping a watch on them or protect them from any adult content. The girls will fall in love with the vibrant colors, high-definition graphics, and fantastic music in every game.
It's time to get in your pj's and bond with your daughter over a fun sleepover.