Best Minecraft Story Mode Characters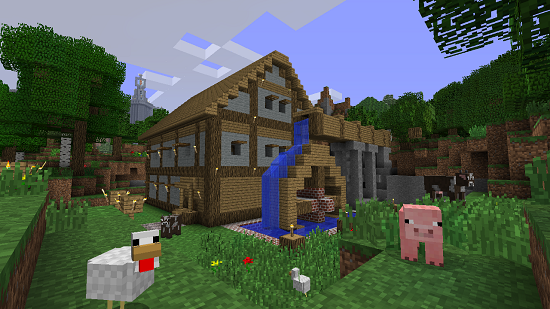 Do you want to know about the best Minecraft Story Mode characters and their names? If yes, this post is all you need to learn everything about these Minecraft characters and their personalities.
Minecraft Story Mode received a lot of positive reviews and is a Telltale Game spinoff of the classic building game. This game revolves around the same concept of Minecraft with a throwback to things people love about it, including Enderman and Creepers. In Story Mode, the gameplay majorly relies on storytelling which was the major selling point of the Telltale production. This game lets the player make choices in a story-driven journey, which makes them feel as if they are a part of the game.
Unfortunately, Minecraft Story Mode was removed after the closure of Telltale Games. You can still get access to Minecraft Story Mode's first season on Netflix as a pick-your-own adventure series. The storyline of this gameplay will be stuck with you for a long time and will give a completely fresh perspective about Minecraft.
The Minecraft Story Mode characters are the best aspects that you will root out for. In this article, we have compiled a list of some of the best Minecraft Story Mode characters names and personalities.
Jesse
Jesse is the main character that a player controls in the Minecraft Story Mode. The player can choose whether Jesse will be male or female and also customize its appearance. You can even decide Jesse's actions and reaction to a particular situation. Jesse is overall a lovable, kind, funny, and loyal character that can also be intense and very emotional at times.
However, at times, it can be a little arrogant and even humble who empathizes with people who mistreat it. Don't be surprised to see a ruse and snarky attitude towards Ivor and Lucas. At times Jesse can be harsh towards anyone.
Read More- 6 Best Minecraft Modpacks That You Can Play In 2021
Lukas
Lukas starts off as one of the Ocelots, rivals of Jesse in the Minecraft Story Mode. But as the game progresses, Jesse will be given a chance to decide either to be kind or rude towards Lukas.
Lukas is shown as a kind and understanding person, always concerned about other people's safety. He tries to use diplomacy to solve the arguments and to maintain peace in every situation. However, Lukas's early portrayal is as a coward, but it will surprise you with immense courage, strong yet peaceful demeanor later in the game. 
Axel
Axel is the kind of sidekick every main hero character needs. In Minecraft Story Mode PS4 Axel is shown as a comic relief that keeps making hilarious comments and sarcastic one-liners that will even make you laugh. Axel is a character who truly cares about his friends more than himself. One of Minecraft's Story Mode's main aspects is the friendship between Jesse and Axel.
He starts off as a coward but slowly, he gets into a fierce demeanor who defends the friends and is ready to go to any extent to protect his friends. Axel is also a Kleptomaniac who keeps stealing small things whenever he gets a chance.
Soren, the Architect
Soren appears a complete genius and eccentric at the beginning of the game. He is a bit of a mad streak who has an affinity for Endearman and is always ready to put himself into danger for completing his research. Soren also has a goofy side. He is the kind of character we all can relate to, a person who is tired of his life and wants to change everything.
Gabriel the Warrior
Gabriel is also a member of the Order of Stone, a legendary warrior who killed the Ender Dragon with a final blow. He is shown as a self-proclaimed person for his good looks and superb combat skills. Gabriel always keeps tooting his own horn every time. He is a self-obsessed person who will make you laugh, which is why he is one of the best Minecraft Story Mode PS4 Characters.
Olivia
Olivia is a caring and intelligent girl who gets worried really quickly. She lacks confidence but still tries her best to make things work out in every situation, no matter how difficult they are. Olivia gives a lot of thought to what others think about her and her friends. She is a pessimistic person who even thinks of giving up.
Petra
Petra is one of the best Minecraft Story Mode warrior characters. She is ready to help anyone, even the people she doesn't like, if given the right price. Petra is very loyal to her allies, even in the most dangerous situations. She is always a game for challenges and portrays a very competitive nature when it comes to conducting contests against her friends.
She is one of those Minecraft Story Mode characters that is always optimistic, energetic, and proud of her victories. At times he can also be greedy for treasures and always craves adventure in life. She starts becoming restful when her old friends go away, which makes her more clingy and dishonest.
Read More;- 8 Best Minecraft Survival House To Build
Ellegaard
Ellegard is very intelligent and has invented a lot of things, one of them being complicated Redstone machinery. She can be a little egoistic and does not like non-Redstonist people.
Magnus
He is the egoistic and stubborn of all the Minecraft Story Mode characters. In the game, he can also be seen getting insane and cocky on several occasions. Magnus is offered to give up the armor for Jesse, although he just did it as a favor for the group.
Harper
She is an intelligent girl with a resilient and brave personality. As the game starts off, she appears unfriendly and apprehensive, but as the story progresses, she becomes a caring and loyal person towards Jesse's Gang.
Harper is also one of those Minecraft Story Mode inventor characters. She faces loneliness due to her long-term isolation. Although she is scared of making new friends, she is loyal to people who are her friends, like Jesse and the entire gang. She has a bad habit of eavesdropping on other people's conversations.
TorqueDawg
He is portrayed as a prickly and rude character who does not respect anyone. Torque keeps making fun of everyone and loves to show through his loud personality. He does not like it when people make fun and is also a kind of liar. He is seen lying about a rare item that he possessed.
Cassie Rose
She is a suspicious, grumpy character who is scared most of the time. Cassie cares a lot about her cat and can also be friendly at times. She is a fearful character and also friends with YouTubers. Cassie's ruthless character can be seen when she is advised to throw Lucas outside to get eaten by the Zombies, which came as a shock to the YouTubers as well.
PAMA
Pama is an intelligent thinking machine of all the Minecraft Story Mode characters in this PS4 series. He thinks a lot of his own viewpoints and considers humans to be inefficient. Pama appears polite and friendly and can quickly change from a happy personality to an angry one. He is obsessed with making things useful and increasing efficiency. You can also see him making false promises and claims to trick people.
Final Words:
Minecraft Story Mode was a huge success and became everyone's favorite game with its engaging storyline. The main aspect of the game is its characters. We have listed the best Minecraft Story Mode characters, their names, and personality attributes in this article. Knowing about the game's main characters will help you engage with them better when you actually play the game. Trust me; you will be hooked to this Telltale Game. Don't forget to leave a comment below if you find this article interesting and helpful.