Best Free VR Games to Play for an Amazing Gaming Experience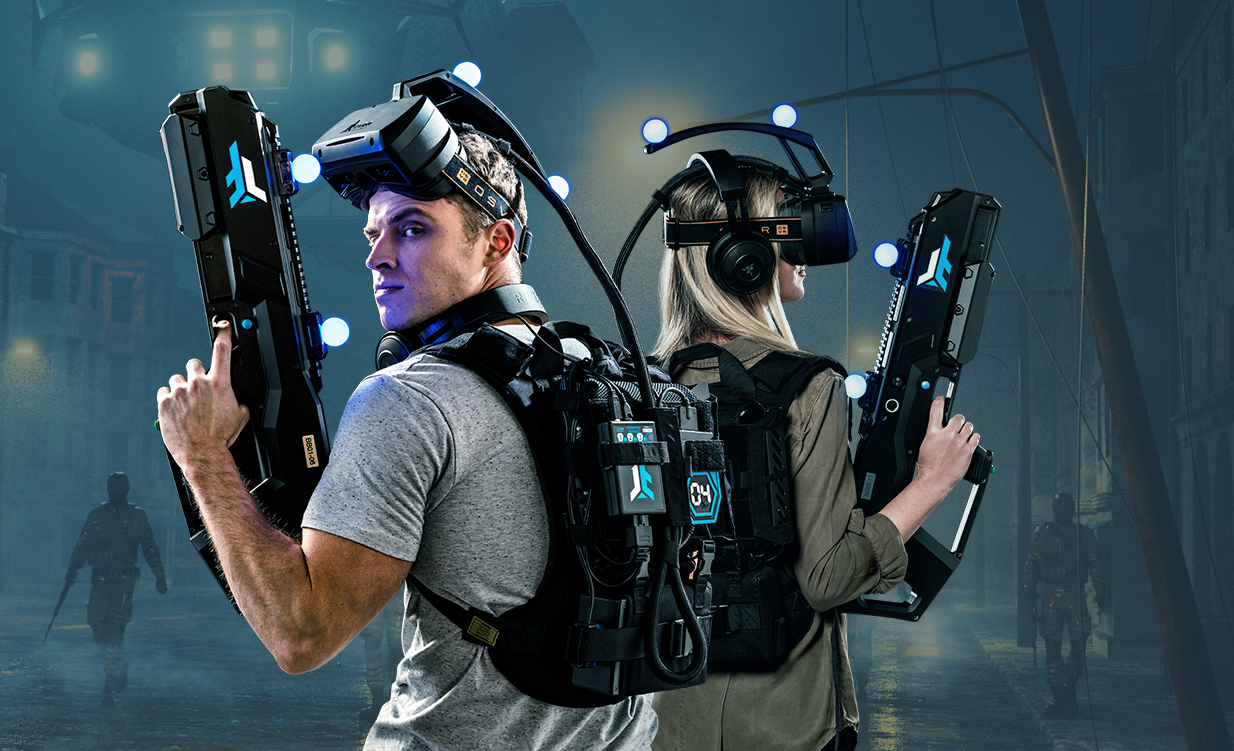 Who doesn't like VR games and especially when they are free? VR headsets may not come at a cheap cost, but some VR games certainly do. VR can deliver you an amazing gaming experience with all the emotional moments, action, and moving stuff. Luckily, there are many free VR games that can give your hours of fun. 
In this post, we have rounded up a list of the best free VR games you can enjoy without paying a single penny.
Best Free VR Games
Vr provides an amazing experience with advanced capabilities and interactive virtual objects to enhance the gameplay. The world of VR games is full of a wide range of games like multiplayer VR games, VR horror games, shooting games, and much more. Below mentioned are some of the best VR games.
Robo Recall
When it comes to the best free Oculus Quest games, Robo Recall has to be on the list. It is among the VR shooting games, but you need a top-notch graphics card to play this game. In this game, you need to confront some damaged robots which are rebelling against the system. What are the best parts of this game? The comedic voices of the damaged robots will make you laugh out loud. These voices are slightly reminiscent of those of the battle droids from the popular Star Wars franchise. You have to unlock a lot of weapons, and you get hours of amazing robot slaughters, which will give you hours of fun and entertainment.
Arizona Sunshine
It is among the best free Oculus games, and if you love VR zombie games, then trust me, this one is for you. You might have played zombie games, but do you know what it is like playing these games in VR? Arizona Sunshine is one of the best zombie shooter games built exclusively for VR. It allows you and your three friends to handle a co-op campaign mode in which you have to fight the walking dead.
If you want, you can also test how long you can fight and survive in Horde mode. This game features around 25 realistic weapons and a wide range of environments, including canyons, mines, and deserts. Apart from English, this game is also available in French, German, Chinese, Japanese, Italian, Russian, Spanish, and Korean.
Onward
It is one of the best free VR games that has been released on Oculus Rift so far. Like the other military games such as insurgency, it has no mini-maps or crosshair. Therefore, you need to be aware of your surroundings and alert all the time. Moreover, you need to coordinate with the teammates adequately to survive.
The game perfectly combines artificial locomotion and the mechanics of realistic combat to push your skills to the best of your ability. Before playing this game against trained human opponents, it is best to practice with AI enemies in different modes of gameplay.
Rec Room
When it comes to the best Oculus Rift games, Rec Room has to be on the list. This is among the free VR games that follow the concept of The Lab. It throws in a little bit of social media and plants it adequately in the gym class of your high school.
It is among the cool free games in which you can customize your avatars and join up with different plates from across the globe. With them, you can play games such as Zero-G Paddle Ball, Disc Golf, Dodgeball, and more. This game highly relies on social aspects; therefore, a lot of talking and chatting is involved in it. This cool free game allows the plates to ignore, mute, and report players who impact their gaming experience.
First Contact
If you want to have a magical experience, then this is one of the best free VR games. It allows you to touch and interact with a wide range of objects present in the room. Moreover, you can enjoy the company of a lovely robot friend. These games feature high-quality visuals, which provides the players with amazing immersion that VR was actually created to provide.
Milkyway Funland
If you are looking for a series of the best free VR games, then this one's for you. It is a series of entertaining, enjoyable, and fantastic VR games. In this game, you are put in a futuristic amusement park. Here you can view a wide range of unimaginable and amazing stuff of the past, present, and the future at such an amazing space station. In the series of these free cool VR games, the players are allowed to become a warrior or cartoon hero.
There are seven VR experiences in this game, with a lot of park games for new players and for the experts. You can witness this game and its acts from a first-person perspective, and it may disappoint the younger audience.
Propagation
If you want to experience something adventurous, this VR game is for you. It is among the most amazing, adventurous, and best free VR games. In this game, you are stuck in an abandoned and strange subway station. Moreover, you are surrounded by different hideous creatures. Now, you need to kill these creatures and survive.
You can finish each session of this game in approximately 30 minutes. But trust me, these thirty minutes will be full of dead and horror-making the best VR horror games. Propagation gives you a horror experience and a better VR experience.
Imagine getting stuck in a place with hostile creatures and an apocalyptic environment in which you can hardly move. Sounds scary, right? You can experience all this by playing the scary free oculus games.
In this game, the arms feel more natural, and in order to survive, you will have to save the ammunition. Though the game has only one map, it has four extremely difficult settings to choose from.
Bulk Dominoes
It is among the most entertaining and best free VR games that allow you to live out your dream of a domino-toppling VR experience. In this game, hundreds of dominoes are set up. You have to set the hundred dominoes, use pre-made materials, or paint them with different colors. Moreover, just a click is enough to clean your mess.
This game includes domino accessories of the real-world, virtual camera, real-world physics, and a lot of saving and loading designs. It is a fun game and easy to play, so there is no chance of knocking down your domino chain accidentally. This game is the best VR game for kids.
Archangel: Hellfire
If you like mech guns and deathmatch gaming, then this is one of the best free VR games for you. In this game, you can freely roam with weapons that can cause mass destruction on different post-apocalyptic lands. It is an explosive action game that includes six different war machines, four maps, and 13 weapons. Trust me; if you are into action and explosive games, you should play this one for a mesmerizing gaming experience.
The Red Stare
It is one of the best free VR games and is all about espionage. In this game, your objective is to collect information about different communist spies. You have to play the role of an American agent in your 50s and collect proofs about your neighbors in order to find out their roles to uncover communist spies.
In this game, you have to monitor everything by staying inside your flat, gathering information using your mobile and fax machine. Moreover, you can also use intel present in files on your desk and also take photographs with the intent to confirm suspicions. In this game, you have to use different ways to differentiate individuals.
Goblin Rush
This one is among the popular and best free VR games. Your objective in this game is to defeat all the goblins to win the level. You have to play the role of a legendary warrior with a bow and famous for his skills. Moreover, you have to look for hideouts, target, find the goblins, and shoot them.
Sound easy? But trust me, it is not easy to target the goblins and hit them with arrows. They continuously move and keep jumping recklessly around the map. You need to prove your abilities and strength by targeting the goblins and executing the shot to defeat them. This game comprises ten difficult levels. But it does not end here. You need to continuously explore the world and keep destroying the creatures you see.
Spiderman: Far from Virtual Home Reality
If you are a true fan of Spiderman, then there are many best free VR games for you, but trust me, it is the best. In this game, you have to play the role of Spiderman, who is far from home and trust me, it will give you an amazing VR experience. You get to swing different towers in Manhattan. All you need is to get one of the four suits, and you are all set to get thrown into clouds. However, you need to stay alert from dangerous and colossal enemies. In this swinging and exciting adventure, you need to find and challenge the intruder of New York.
Lodestone
This one is a free-action and exclusive single-player VR game. In this free Vr game, you aim to wield stones and also prove yourself against the waves of enemies in the underground world. You can use different attacks and do the best to reach the end. It is a small adventure game in which you need to explore firing rocks and different caves. The levels are linear and have big arenas in which you have to encounter different waves of enemies.
Final Words
If you do not want to spend a lot of money and have an amazing gaming experience, then the best free VR games are for you. In order to play these games, all you need is a VR headset, and you are all set to go. These games will give you a live gaming experience and hours of fun. Tell us about your favorite VR game by dropping a comment.