List of Water Adventure Sports You Should Try This Summer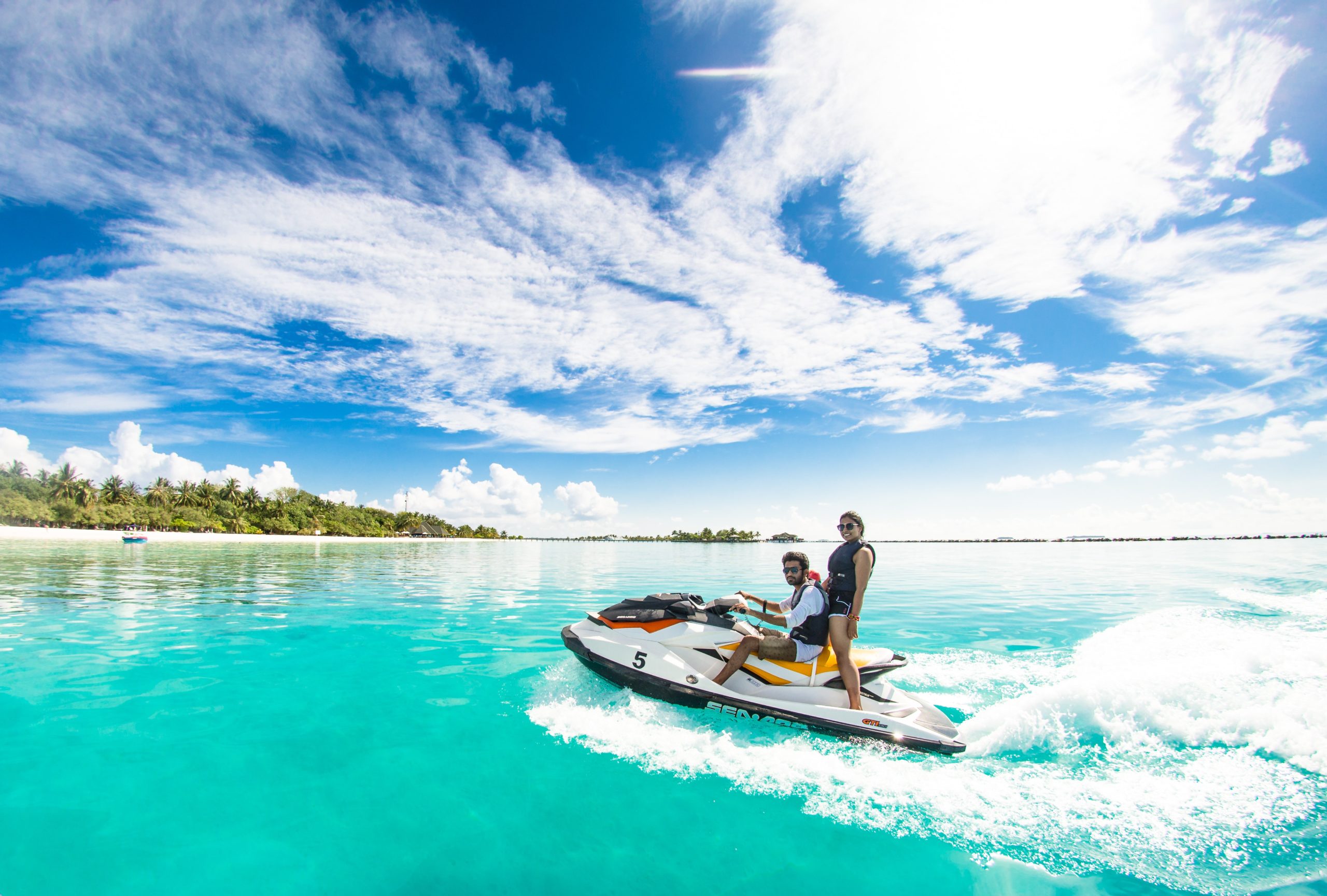 Imagine being on the top of the waves while riding a surfboard. Sounds, interesting right? Trust me; it feels awesome. The water adventure sports allow you to have fun, thrill, and new experience. They allow you to enjoy the beauty of beaches, enjoy the waves of the glittering ocean, and discover underwater life. Here is an article with some of the best water adventure sports you should try this summer.
Why Choose Water Adventure Sports? 
If you are a beach lover and fond of beach vacations, then water adventure sports are the best pick for you. A trip to the ocean allows unique opportunities to engage in a wide range of water activities. Water sports are among the most popular and extreme sports. They allow you to experience an adrenaline rush with a touch of thrill.
Water sports are not only fun but also allow you to stay healthy and fit. You need a lot of courage and enthusiasm to dive into the world of water adventure sports. In addition to this, water sports enhance mental health by reducing anxiety and stress.
Best Water Adventure Sports
There is a wide range of water sports and underwater sports in which you can participate for some real thrill. Here are some of the best water adventure sports to try on your beach trip.
Jet Skiing
Water jet ski is originally the name of a particular Kawasaki water vehicle. Jet skiing is one of the most popular and fun water activities. Water jet ski is a powerful craft. They render output similar to that of oat engines and accelerates like a motorbike. It is a mode of water transport and provides a thrilling experience due to which it is included in the list of water adventure sports.
If you are planning to experience jet skiing on a water jet ski, then get ready for an awesome experience. But you also need to take a few precautions. Due to power and speed, water jet skis can be really hazardous in the hands of a newbie. Make sure to wear proper safety gear before taking jet skis to the water.
One best thing about water skiing is that it allows you to have a sense of freedom on water and enjoy the waves. You will be able to see around 360 degrees, and trust me; it is pretty spectacular. So, this summer vacation, have some real fun on a water jet ski.
Paddleboarding
The popularity of water adventure sports is growing day by day. Paddleboarding is one of the most amazing water sports. In this water activity, riders take the boards in the ocean using paddles to navigate the water. Boards come in a wide range of shapes and sizes and in various materials.
If you have never tried paddleboarding, then it may not seem attractive to you. But trust me, this one is really fun. Paddleboarding is more fun with a buddy. On the water, you come closer to the wildlife and nature, and nothing can be better than sharing that feeling with your best friend.
Stand-up paddling is an amazing exercise routine and can travel around 4 miles and burn 200-500 calories in just an hour. It allows you to work out on different muscle groups and enhance your core strength. Paddleboarding is a full-body workout with fun.
Parasailing
Imagine yourself being carried by boat through the air. Sounds thrilling? This water adventure sport is highly thrilling. In this, a person is attached to a parachute-like canopy that is tied to the boat. The rider flies high above the water in the ocean. If you want to experience with your best friend, then no worries as come canopies can carry around 2-3 passengers.
The introduction of advanced technology to parasailing has increased its popularity in an amazing manner. In parasailing, you can go as high as 500-1000 feet. It will give you the feeling of a free bird flying high without wings. If you want to experience soaring through the beautiful blue sky, parasailing is the best activity for you.
Waterskiing
Water Skiing is one of the popular water activities and has been around for a century. Waterskiing was first attempted by Ralph Samuelson in Lake City, Minnesota. This is amongst the thrilling water adventure sports that require sufficient area on smooth stretches of water, a two-boat, one or two skis, and a personal flotation device. For this sport, you require satisfactory lower and upper body strength, good balance, and muscular endurance. These water activities are perfect for having a thrilling experience on the beautiful waves this summer.
Wakeboarding
When it comes to water sports, wakeboarding is one of the best. In this water activity, the rider has to stand on the wakeboard and then they towed behind a powerful motorboat across its wake. The ride is especially towed off the crest to perform different aerial maneuvers. The rider is towed using a rope behind a boat. Moreover, cable systems and winches are also used.
Wakeboarding is perfect for pleasure and some amazing experiences. It will boost your adrenaline rush, and trust me; it will give you the best experience of your life. Like other water activities, wakeboarding is an amazing water adventure sport with a wide range of health benefits. It requires coordination and strength. If you are experienced, you can try different stunts like jumps, turns, flips, and more. However, if you are a newbie, avoid the stunts. It will allow you to have more fun while exercising.
Scuba Diving
Scuba diving is one of the most popular water adventure sports and water activities. It is a type of underwater diving in which the diver dives underwater using a self-contained underwater breathing apparatus. It is independent of the surface supply and allows you to breathe underwater.
In scuba diving, you have to carry your own source of breathing gas. It allows you to explore the beautiful coral reefs, underwater world and see beautiful water life. Imagine going underwater in the sea and exploring the beautiful world. Scuba diving allows you to do all that.
Surfing
Imagine riding on beautiful sea waves aboard. Sounds fascinating, right? Surfing allows you to survive the beautiful and large ocean waves using a surfboard. In this surface water sport, the surfer rides on the movie waves of water to enjoy the wave. The ideal waves for surfing are found in the ocean, and it provides you an amazing experience.
It is highly addictive and one of the most popular water adventure sports ever invented. There are around 20 million surfers across the globe, and this number is continuously growing. It requires a lot of talent to pull off right. Before entering the sea, make sure to learn how to surf.
Kite Surfing
Another popular water activity is kite surfing. Trust me; it is the coolest water sports with a lot of fun. Moreover, you do not need to be highly fit for this sport. However, if you are a beginner, make sure to go through a guide for kitesurfing to make sure that you are doing it right.
It is also known as kiteboarding and is an extreme sport. In this, the kiteboarders use the power of the wind with a string controllable power kite to propel across the water. This water activity combines windsurfing, wakeboarding, paragliding, sailing, and surfing. When it comes to fun water activities, kite surfing is on the top as it is less expensive and comparatively more convenient.
Kayaking
In kayaking, the kayak is used to move across the water. A kayak is a canoe-like and low-to-the-water boat in which the person sits facing forward. Legs are kept in the font, and a double-bladed paddle is used to pull front-to-back on one side and the other rotation on the other side. It allows you to move across the water and is usually done in lakes and rivers. You can go kayaking while exploring the beauty of nature. Make sure to wear the right clothes in kayaking.
Swimming
If you want to stay fit, swimming is one of the perfect water sports for you. Ocean swimming provides you with an opportunity to test your physical endurance. Anyone who wants to get a supreme swimmer shape should try ocean swimming.
There is no comparison between swimming in a small pool and swimming in the vast ocean. With the sun on your back and a continent close by, you get a unique view of the ocean, and trust me; not everyone can enjoy it. Once you get addicted to ocean swimming, there is no going back to the land-locked pools. It is also great for your health, and it allows you to exercise while having fun.
Sailing
Windsurfing or sailing is an extreme water sport that people love worldwide. It is a favorite speech among the beachgoers. If you visit popular beaches, you can easily find people windsurfing and having fun. It is the perfect water sport to try for some adventure and thrill. One best thing about windsurfing is that it is among the extreme sports but is less dangerous as compared to the others. Make sure to learn how to sail before trying windsurfing.
Skimboarding
A skimboard is similar to a smaller surfboard, but it does not have fins. Skimboarders begin at the beach, carry themselves to the water using the momentum, and then catch a breaking wave to get back to the shore. This sport requires balance so that you can enjoy it properly.
Final Words
Water adventure sports allow you to breathe in the fresh air and enjoy nature. They lift your spirit, set you in a good mood, and keep you energized. So, this summer, instead of just wading in the water and chilling on the beach, try some water activities. Tell us about your favorite water sport by dropping a comment.