Learn To Play Monster Legends Using These Tips and Tricks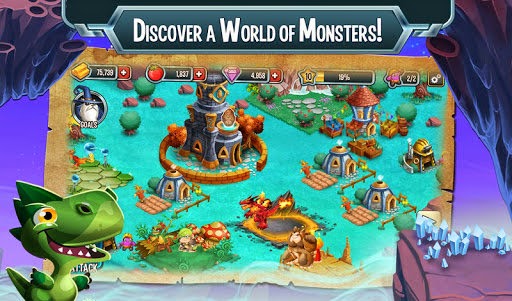 Monster Legends is a multiplayer role-playing game of raising monster armies from unhatched eggs into intense fighters. With more than a hundred monsters and the ability to breed even more and create unique hybrid species, every player can virtually command their elite force.
This game is playable on every platform, Android, iOS, and even Facebook. You can fight millions of players worldwide with your army of specially trained beasts.
As you progress in the game as Monster Master, you will be able to enhance the Monster Paradise the specially made for your monsters. On this island, you have to feed your monsters, train them and even breed them to get them ready for embarking on a quest and do precious loot.
Monster Legends' best is that it is available in 7 popular languages and is free to play. You need careful planning and a strategic mind to fight the battles.
With new items, monsters, and paths being added every week, Monster Legends is a fun game that offers an in-depth gaming engine.
How to Play Monster Legends
The game can be played in-app or through Facebook, no matter which method you pick, the process of starting with a game is simple. You will get accustomed to everything around you within a matter of a few minutes.
When you start the game for the first time, you will be greeted by Pandalf, a long-bearded Monster Master. He will give you step-by-step guidance on how to create your island.
Build Habitat- Pandalf will walk you through the entire process of buying an even setting up fire habitat on the island. First Level players have access to only Fire Habitat.
Create Monsters- after creating the habitat, the next step is to create monsters by buying a Firesaur egg and wait for it to hatch. Once the egg is hatched, place your Monster in the Fire Habitat.
Feeding the Monster- the Firesaur looks really cute at level 1, but it is not strong enough to fight in a battle. Pandalf will teach you how to feed your Monster and make it stronger and gain experience points.
Build Farm- monster food is not free, which is why building a farm on the island is a great option to grow more food for free. The first item you will grow on your Farm is Blue Lizard's tail.
After the introductory part, Pnadalf will leave you to play the game on your own by giving the instructions on how to grow the island and breed more monsters.
As you keep progressing on the island and you start developing an army, you are ready for your first battle. This is where the fun part begins. With time you will get comfortable fighting in battles and eventually more on higher levels to PvP mode. In PvP mode, you will team with other gamers to fight with other gamers in order to climb up the leaderboards.
People who successfully complete this part of the game gets to participate in Legendary Leagues, where the rewards and accolades are higher.
Useful Monster Legends Hack:
Here we have listed some useful tips and tricks to fight a successful battle with your monster army. The Monster Legend hack will make the game a lot easier for you to play.
Know the Elements Inside and Out
Like a chemist needs to know periodic tables, a player needs to understand the elements of the game along with the strength and weakness of each element. Everything in the Monster Legends game revolves around these core elements, which help you build a habitat for a particular monster to progress through advanced levels.
You can even use the Monster Legends breeding guide that revolves around Metal to Fire; it provides details about everything.
As you progress through the game, you will learn more and more about the elements.
Adjust to Your Opponent
Another important Monster Legends hack Team building. Team building is an important proficiency for well-structured group and battlefield triumphs. Monster Legends offers a unique fighting feature that is not seen in other fighting games. You can remove and add more members to your army based on who your opponent is.
These changes are important to strategize before coming to any battle carefully. This way, you have the surety that the monsters you send into the fray will have the best chance of winning against a particular opponent.
Choosing which monsters to add to your team should depend on the defensive and offensive strength or weakness against particular elements and the resistance or special skills each possesses.
 Read More:- Candy Crush Saga Cheats For Crushing Levels
Perfect Your Special Skills
Every Monster has a different skill set that can be seen on their profile page and pertinent details. Understanding each Monster's skill set is essential before you start a fight. These skills can help you win the battle if used properly.
Special skills of the monsters are displayed at the bottom of the game screen. Some monsters can attack multiple people simultaneously, while others can have the ability to protect or heal several members. Perfecting the skills and knowing how and when to use them is the key to success, especially if your opponents are upper-echelon enemies.
Take a Goal-Oriented Approach
The moment you step into the Monster Legends world, you will be able to do several interesting things from your starter island. While freestyle sounds fun, establishing a structure is good to stop you from deviating from the path.
When Gandalf visits you to explain a particular task, always listen to him carefully. This guy is a seasoned monster master who knows everything. Even when he takes the back seat, he always has the Goal Button in view. When you follow the tasks to help you progress to the advanced levels for a better gaming experience.
You should also follow the Adventure Map for warfare. Hopping from one fight to another in a right progressive manner will help you gain invaluable experience, and you also get used to different types of enemies and battle strategies.
Become a Champion Breeder
The only way to achieve a strong army is by Monster Legends breeding. Pairing two creatures will produce an Epic, Rare and legendary monster to give you a powerful beast.
Monster Legends breeding is an important part of the game. Most times, breeding goes wrong and results in a crapshoot. Although, don't be afraid to experiment; you can always sell the eggs if you are not satisfied.
You can never be certain about the results of Monster Legends breeding. However, by following the guidelines, there are better chances of getting desired hatchlings. The in-depth Monster Legends breeding guide will help you become the master of breeding.
Utilize Your Inventory
During the battle Monster Legends, players often focus on the defensive and offensive skills. Players often forget about their useful inventory, which is obtained in victory. The inventory can also be purchased from shops and can help you give an edge over the opponent.
Know the effect and purpose of every item before you are ready to use them. No matter if it's a dynamite stick or healing scroll, an inventory is equally important as your monsters' skills.
Build Wealth by Recruiting and Sharing
There are plenty of ways to obtain gems and gold in the game. You can also include a bounty for earning loot or winning the monsters' battle in their habitats. The game also offers you to purchase virtual money using real cash if you want to.
One easy method for collecting more wealth is by linking your Facebook account and sharing updates when the game asks you to. You will receive gems or gold as compensation.
You can invite your friends and family to play the game with you, this way you will earn more prizes. To start a referral, you will have to build a Recruitment Tavern on your island. You can purchase the Tavern in the building section for 500 gold.
It is important to link with your Facebook account to send the invites from within the Tavern. You will get gems and gold and get to recruit new players, warm free food, and more monsters.
Tilling the Fields
Food is essential for success and survival in the game. Without proper diet, your monsters will not be able to move up the level. Food stock also helps to upgrade higher habitats and other types of building income levels. The easiest way to earn more food is through daily bonuses, stealing from other players during the battle, or defeating a computer-controlled monster. You can also buy more food by using your gems at the store.
Monsters will need a lot of food, and these three methods will not be quite enough to maintain your food stock. This is why it is essential to build and maintain your farms on the island. This way, you can grow your own crops by purchasing the Farm from an in-game shop.
The size of the Farm and the output will depend on the game level. You only get to build one Farm initially. The number of farms continues to grow and reach a maximum of 14 for players who are at level 55 or above.
Practice Patience
Other than combat ground, there are several times when the monsters have to wait around. Breeding two beasts, constructing a new building, or waiting for the egg to hatch have a timer. The stronger is the Monster, the more complex the architecture is, and the longer the wait will be. This Monster Legend hack comes to use at such times. However, there are ways to speed up the game if you are willing to spend some virtual money.
At times like these, it becomes tempting to use gems and gold rather than being patients, especially at early stages. However, that loot will be useful when the demand rises, and everything will get more expensive. It's better to save your money. The restraint can grow tenfold as you keep advancing the levels; you can buy more gems from the in-game shop if you don't mind spending real money. Patience is always a virtue.
Keep Your Island Clean
Cleaning sounds boring, be it your room, laundry, or in-game. This task sounds like an unnecessary chore. The last thing you would want to do is clean when playing a game. However, in Monster Legends, you have to keep your island clean using the workers to clean rocks, trees, bushes and increase the space for farms, habitats, temples, and buildings.