Disney Dreamlight Valley: How to Make Lobster Roll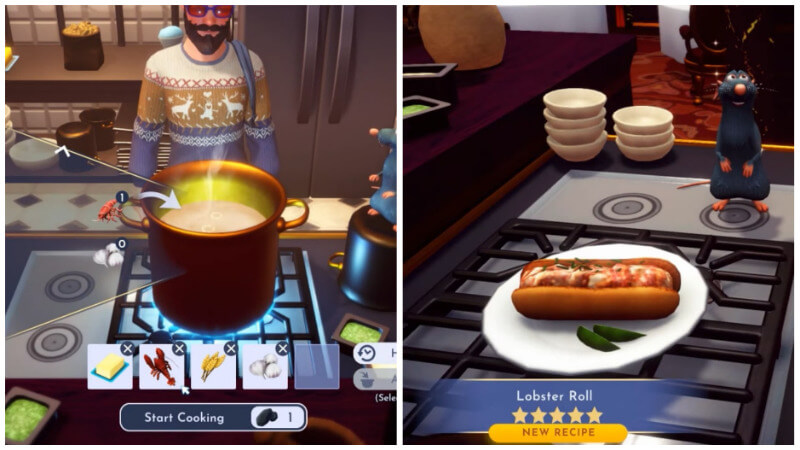 On September 6th, Disney Dreamlight Valley entered its early access phase, and players worldwide enjoyed it. It is because of the game's enormous open environment and the fact that it has cameos from some well-known Disney and Pixar characters.
Players have a wide variety of options while exploring Dreamlight Valley. However, specific missions and activities seem to be more popular than others. One such pastime is cooking, in which players may prepare various meals by following instructions. These recipes specify which items the player must acquire before preparing the meal.
One such meal, lobster roll dreamlight valley, will be the topic of today's conversation. First, Mother Gothel introduces this meal and the items needed to make it as part of her request. Sushi and lobster rolls are required for this mission. Sushi may be made quickly and easily, but lobster rolls, considered a five-star delicacy, need more time and effort.
Lobster Roll Dreamlight Valley Instructions
There are a total of five particular items required to prepare lobster roll dreamlight valley. These must be collected from various locations in Dreamlight Valley before the rolls may be baked. The recipe will turn out very differently if you have all of the specified components. To avoid it, we will provide a list of the materials and instructions necessary to get them.
You may get butter from Remy's Pantry, which is located in Chez Remy.
Wild garlic is the only source of this culinary staple. The Forest of Valour is where you'll find them.
This item, a lemon, must be gathered from the wild. However, you may pick one from a lemon tree in the Forest of Valour and the Glade of Trust.
Lobster: Catching this one will need some effort. When fishing, you could get lucky and reel in a rare orange circle. The Glade of Trust is the place to go fishing for them.
Wheat: This product requires cultivation. Go to Goofy's Stall in Quiet Meadow to purchase the seeds needed to create this item.
These things are obtained in various ways, but all require a trip to the Forest of Valour and the Glade of Trust. Although Mother Gothel's quest will provide the finest rewards, you may get them in your way.
Once you have the five necessary components, the rest of the process is just cooking. You may do this at any available stove or Chez Remy. All you have to do to make tasty lobster rolls is mix the ingredients and finish cooking them.
Lobster, Wheat, Lemon, Butter, and Garlic are the five essential components needed to produce Lobster Roll, a 5-Star dish in Disney Dreamlight Valley. You can make a lobster roll dream light valley by combining the abovementioned ingredients on any burner.
This 5-Star meal can be purchased for 1,900 Star Coins at any Goofy's Stall and may restore 4,928 energy for use in Disney Dreamlight Valley. Even if that's a fair amount of money, you'd be better off just eating the dish at maximum power to trigger Well Fed. Players will gain incredible speed when doing everyday tasks like walking, gardening, fishing, and more.
Disney's Dreamlight Valley: Where to Find the Necessary Staples for a Lobster Roll
Remy had a wonderful day at Disney's Fantasyland.
In Disney Dreamlight Valley, you'll need five different things to make a lobster roll dreamlight valley, since it's a 5-Star dish that calls for lobster, wheat, lemon, butter, and garlic.
Lobster
The dream light valley lobster roll is at the top of the food chain. To access the Glade of Trust, where this component is stored, you must spend 5,000 Dreamlight. It's not a trivial sum but not out of the question. Once you've teleported to the area, go over to the water and scan for a golden ripple. When you do, use the rod to reel in a lobster. Getting a rare fish needs four catches for every gold ripple.
Wheat
Of the five, wheat is perhaps the most accessible. Assisting Goofy with his stand in the Meadow of Peace will allow you to purchase items from him later. However, gamers in Disney Dreamlight Valley can't buy wheat unless they spend Star Coins upgrading the store once. The price of one bag of Wheat Seed in Star Coins.
Lemon
Fortunately, you can get lemons in two different biomes: the Glade of Trust and the Forest of Valour. You may do this by spending either 5,000 or 3,000 Dreamlight. Find trees and gather Lemons after teleporting to one of the biomes. Three lemons are available from each tree. Goofy's Stall in Glade of Trust sells them as materials for players.
Butter
Remy's character unlocks, and a restaurant opening is required to get butter. Unfortunately, Remy's restaurant is the only vendor for this item, costing 190 Star Coins.
Garlic
The Forest of Valour is home to a plant that produces garlic. You may enter this ecosystem for just 3000 Dreamlight. Available now on Nintendo Switch, PC, PlayStation 4, PlayStation 5, Xbox One, and Xbox Series X/S is Disney Dreamlight Valley.
FAQS
What is the cost of Disney's Dreamlight Valley?
It doesn't seem reasonable for Disney Dreamlight Valley to include microtransactions before freeing the game. Although existing users must pay to enter the game, the latest update to Disney Dreamlight Valley jarringly included premium microtransactions.
Disney's Dreamlight Valley: What's the Point?
Disney Dreamlight Valley is a cross between a life simulator and an adventure game, full of exciting missions, locations to discover, and interactions with familiar faces from Disney and Pixar. Dreamlight Valley was a utopian world where Disney and Pixar characters coexisted together before the Forgetting.
What is the best-selling item in Disney's Fantasyland?
Players can earn the most Star Coins from Pumpkins, although they may earn them from any crop in Disney Dreamlight Valley. So even though selling a Pumpkin costs you 389 Star Coins, the return on your investment is substantial.
The above portion is a complete answer to the question of how to make lobster roll dreamlight valley in detail.