Kill Some Time By Solving The Escape Room Games Online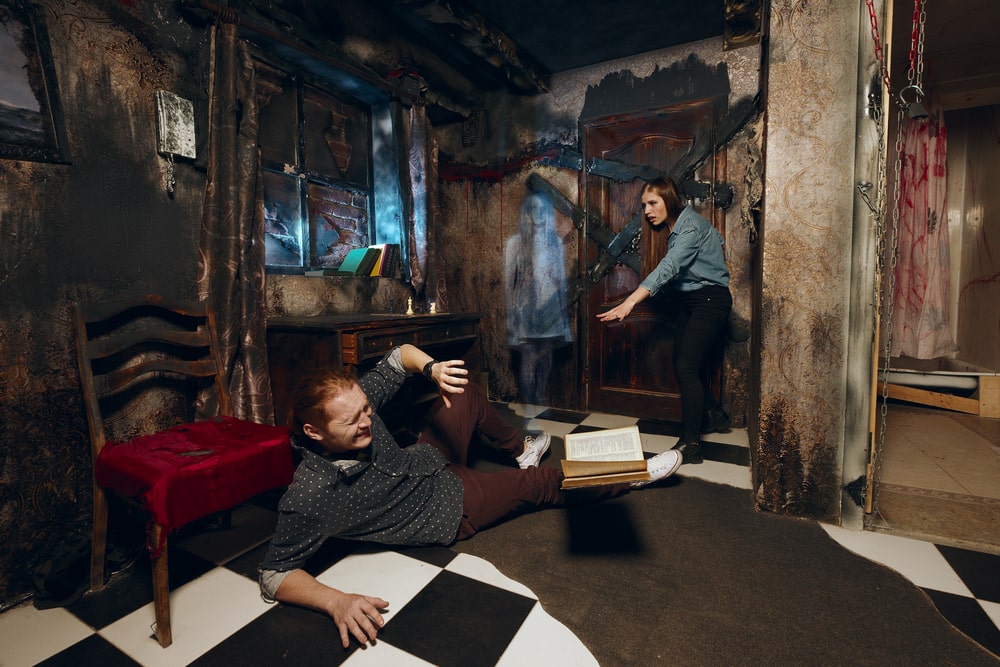 Remember those times when there was no social distancing, and you would go to escape rooms with your friends? Escape room games are a fun way of entertaining family and friends. But what now? Don't worry; we have plenty of escape room games online that you can play in the comfort of your home. 
Imagine your whole friend group working together to solve the puzzles and hunting down clues with a clock ticking over your head. In this article, we have enlisted some of the best virtual escape room games that you can play online with your whole clan and kill some time.
List of Best Escape Room Games Online
Below we have listed some fun virtual escape room games to play online while sitting at home. Call over your family members and solve the puzzles together.
THE ESCAPE GAME REMOTE ADVENTURES
This Nashville-based "The Escape Game" is situated in a total of 19 locations worldwide. This place is available for both in-person as well as virtual escape room experience. The company has created escape room games online based on Zoom. 
You will get 60 minutes for the challenge to escape the room. This escape room game also features a live host who will guide and act as your ears and eyes during the entire game. You will also get a digital dashboard to track the clues and do a 360-degree scan of the room.
This is not one of those free escape room games that you play online; you will have to pay $30 per person to play the game.
THE GRIMM ESCAPE
This is among the most popular and the best virtual escape room games online. It emerged during the COVID-19 pandemic by Puzzle Break. The theme of the challenge is an enchanted forest that is accessible via Zoom. 
You have to solve all the puzzles and escape the witch's curse in order to escape. This is also not a free escape room game. The fee per person is $25, and you need to book your seat in advance. 
BANK HEIST
This one is one of those simple yet interesting virtual escape room games that you can play online for free. The game was designed by the owners of Expedition Escape to keep the puzzle lovers hooked until the escape room available in Pennsylvania re-opens. 
When playing this escape room game, you will be a part of the Crime syndicate who is on a mission to unlock a safe. It's time to grab a calculator and get set ready to solve the puzzles presented in front of you in mere 20 minutes. 
HOGWARTS DIGITAL ESCAPE ROOM
This one is the best and free escape room games available online. You can choose your favorite fun theme that suits your family's fandom. This virtual escape room game comes with a theme that will attract Potterheads. The references will on point 100 percent as the creator of this game is a youth services librarian. One great thing about this game is that you can play this game individually or in a group and can even challenge your friends. 
MINECRAFT ESCAPE ROOM
Another one in the list of free virtual escape room games is Minecraft. This game features math problems and videos themed around the games your kids won't stop playing.
MYSTERY ESCAPE ROOM
This escape room game is inspired by Nancy Drew and with a superhero theme. Mystery Escape Room is hosted by Utah based company. You can book the rooms to play for up to an hour and come live with a game guide. You can easily access the rooms through a video conferencing app. The charge for playing this game is $85- nancy drew room and $75-super hero room. 
OSCAR'S STOLEN OSCAR
National Aquarium, situated in Baltimore, Maryland, hosts a free Fish mystery Escape room game. The fish is named Oscar, and you have to help him find his reward statuette and at the same time learn about the sea creatures during your entire escape room experience. You will also get a virtual tour of the aquarium. 
BRAIN CHASE
You have a great chance in your hand to expand the educational opportunities of our kids through Barin Chase. This is one of the best escape room games online that runs on an educational K-12 platform on a weekly basis as a part of the kid's extracurricular program. You will also get the opportunity to participate in the monthly virtual escape room competition and $100. You will have to buy a monthly subscription starting from $19.99.
The Sacramento Capitol Building Puzzle?
You are trapped in a building, and all you can see is a table with various clues around you. The clues center around California's capitol building. There is a contraption hidden somewhere on the tables that will help you escape the room. This is a fun escape room game with so many interesting features.
Trapped In The Web
This game had to be on our list of best escape rooms online. You can play it solo or with a team to complete all the tasks within 1-2 hours in order to escape the rooms. The game features five different themed rooms: cabin fever, the space race, a night at the theatre, out of hours, and school's out. 
Every room has a different storyline and different puzzles and clues. The quizzes are based on general knowledge. You have to pay Euro 8.99 to play this escape game.  
The Panic Room
Unlike offline escape rooms, when you play virtual escape room games online, there is no limitation of time. You and our friend are free to take as much time as you want. 
The game's main storyline is- Avery stone died in a private jet 30,000 ft above the ground, and everyone on board is your suspect. You and your team together have to solve the case and find the killer. 
You are free to choose the level of difficulty in the game and decide the number of players and age. The fee is $18.18 for one person with no time limit. You can play the game whenever you want to. 
The Crimson Room
This is a Japanese retro-style escape room game with a simple premise. You are drunk and locked in a bedroom, and you have to escape the room before the time is out. 
This is one of the best and free virtual escape room games that involve finding hidden objects and finding clues to escape. This is a great game to kill some time when you are bored. 
Escape Live
Escape Live is a fun room game and is also child friendly with no player limit. You will have 15 different rooms to choose from with several themes revolving around Shakespeare script, sword in a stone, prison break, pirate's plunder. The Charge to play this escape room game is  $18.18. Your aim in this game is to find evidence against the Shelby family. You need to be quick and solve the case before Major Campbell and the team raids the bookies while other people are attending the business matters in London. 
Deadlocked Escape Rooms
This is a reading based escape room game known as Deadlocked. The game has a total of three episodes that will take you into Wexel Corporation with the aim to find that mole at the company that is working against them.  This game can be played alone and also in a team giving a break of three days between every episode.