Best Racing Games Xbox One – Enjoy Speed on Your Screen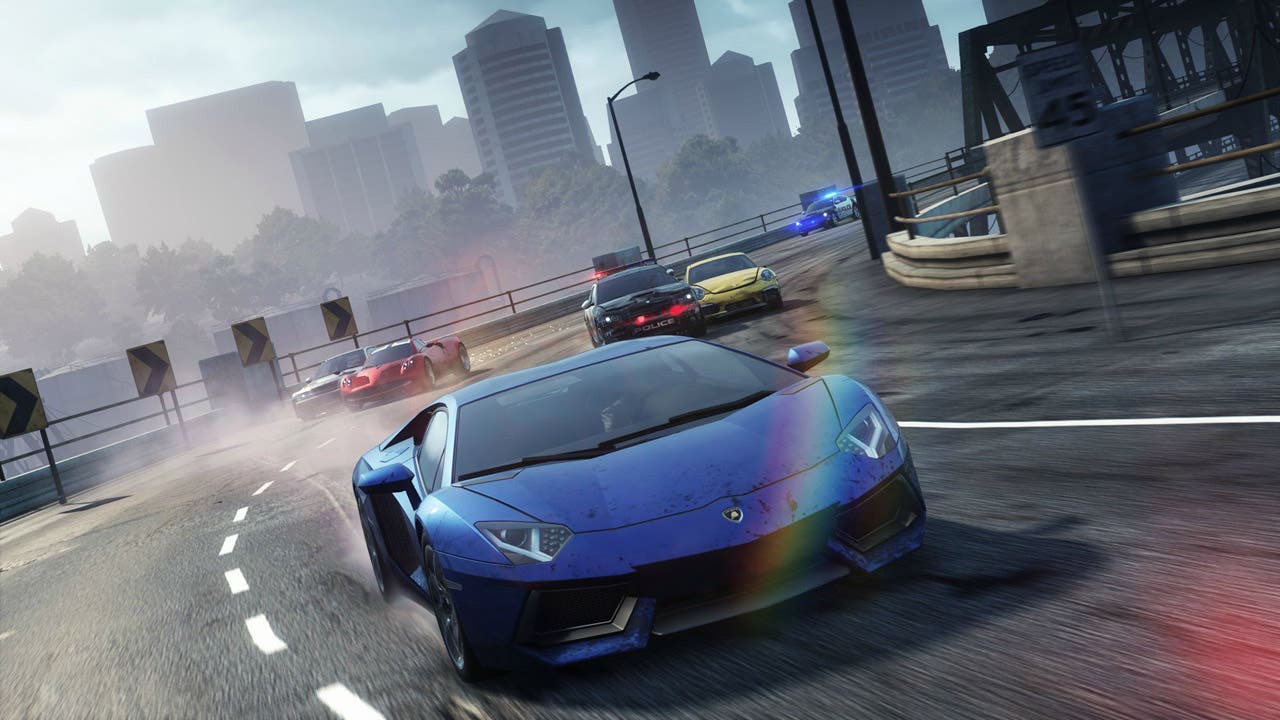 Many people are crazy about high speeds. They often dream of racing along vast straight ways at high speed, performing stunts along roads, riding bikes along with mountain ways, or leaving opponents behind in the dust on a famous speedway. If you are one of those, then, fortunately, you can live all these fantasies with the best racing games Xbox One offers. 
Whether you love to play car racing games or bike racing games, Xbox One racing games have it all for you. If you own an Xbox One, then here is a list of the best racing games Xbox One provides to allow you to enjoy the speed.
Best Racing Games Xbox One
No matter what are your fantasies of the thrill ride, you will get everything in the best Xbox One racing games. We have rounded up the best racing games on Xbox One to help you find out the best one for you.
Need for Speed Heat
When it comes to the best racing games Xbox One offers, then nothing can match the Need for Speed Heat. The Need for Speed game series includes amazing racing games. It has everything that you love about the best racing games. Moreover, it has a plot, amazing characters, a Miami-like setting, cash-winning, police pursuits at night, and illegal street races, which makes it one of the best racing games Xbox One includes.
The Need for Speed Heat is one of the best racing games in the Need for Speed series. It has better races, high-risk rides, more challenging roads, and beautiful humid streets of Palm City. One best thing about this game is that it has endless options for thrilling rides and customizable cars. Below mentioned are some key features of the Need for Speed Heat.
Thrilling racing games featuring realistic world environments.
Enjoy racing with 127 cars and also have a Ferrari.
You can switch according to your preference between day and night with street races at night that evade cops and race events in the daytime.
The game allows you to earn higher "heat levels" and REP with skied driving at night. Moreover, you can win cash prizes by participating in races during the day.
It includes more characters and plots as compared to other Xbox One car games.
Includes off-roading which enhances the game level.
In this car racing game, you can customize your car and can also personalize your identity.
Project Cars 2
This is one of the best racing games Xbox One has for people who are fans of realistic racing games. Project Cars 2 offers stunning visuals, which makes this Xbox One car game a literal thrill ride.
The game includes around 180 licensed cars from brands like Jaguar XJR-9, Bentley Speed 8. Moreover, it offers 121 layouts and 46 unique tracks that you can enjoy for racing. The weather system and new time on the track rosters add amazing realism and provide the players with splendid experiences in the racing game.
The LiveTrack 3.0 allows recreating atmospheric weather conditions for different seasons and times every day. You can enjoy racing in the weather condition you love and any time of the day, whether day or night, for a heart-pounding experience and fun. Features of Project Cars 2 include:
Live Track 3.0 for providing a more realistic experience in every track.
Amazing track roster with around 60 locations and 140 layouts.
Comprises around 180 iconic cars featuring adrenaline-rushing speed.
Allows you to enjoy touring cars, endurance prototypes, GT, and more.
Mesmerizing visual effects for an intense, realistic experience.
Tremendous engine sounds.
Allows you to compete with your friends online.
Onrush
It is one of the best racing games Xbox One has provided to provide the players with rollicking fun. Onrush is an amazing arcade-style game in which the aim is not to reach the finish line. Yes, you read it right. In this game, the players join to make the team enjoy an action-packed ride full of thrill.
This is an amazing Xbox One game with four modes, and the objective is to gain "boosts." You can gain it by doing flips and rolls, picking up tombstones, taking the cars in crashes that defy crashes, and other fun activities while under a timer.
You can battle another team under their time and take out their members. The game offers slow-motion footage, which allows the players to watch the exquisite details. In this racing game, you can choose your vehicle from eight different vehicle classes that have their own unique abilities. Some of the examples of classes include Blade motorcycles which get RUSH by performing stunning mid-air flips. Key features of Onrush include:
Team-style gameplay.
Amazing extreme locations.
Emphasis on fun arcade-style gameplay.
Explosive crashes and "Stampedes."
Fun and gravity-defying racing.
The Crew 2
The crew 2 is the best racing game Xbox One offers. It allows you to explore the large open world and diverse vehicle experience. In this racing game, you can enjoy driving some amazing car models with realistic simulations in pro racers, free-stylers, and off-road experiences.
In Crew 2, the players have to step into the racing world in order to become the caption in different disciplines of racing, including powerboats, motorcycles, cars, and planes. There is a Fast-Fav system in the game that allows the players to instantly switch between different vehicles in thrilling rides across sky, sea, and land.
The graphics of Crew 2 are highly captivating and realistic that you can even see the smallest water-droplets present on the windshield. It provides an immersive racing experience. There are four hubs in the game, including freestyle racing, pro-style races, street races, and off-road racing. Below are some captivating features of this Xbox One car racing game.
Open world landscapes.
Various gameplay for each and every vehicle type.
Race icon boats, planes, model cars, and motorcycles.
You can enjoy racing in different disciplines.
Enjoy a multiplayer mode with different events.
Forza Horizon 4
When it comes to the best racing games Xbox One offers, we can not ignore Forza Horizon 4. It offers detailed and incredible open-world exploration. You can play this game in multiple ways, which is the best feature of this Xbox One racing game.
The game offers endless opportunities for a thrilling racing experience with more than 400 available cars. The players have to drive their way to become a Horizon Superstar Champion. Apart from curve-hugging and spine-tingling racing experience, the players can also enjoy mesmerizing scenery in this racing game.
Forza Horizon 4 racing game lets the players enjoy driving in every kind of weather and season, including breathtaking scenery with mesmerizing realism. In this game, the season changes weekly through a countdown clock.
One best feature about this game is that you can create your own race using the route-creating feature with the shared world. You can also play the game offline to enjoy solo fun. It is the best game not only for racing lovers but also for driving fans. Key features of this game include:
Cooperative and solo play.
Participate in racing events, tours, and challenges for each season to win the Horizon Championship.
The game offers around 450 cars that you can drive in different weather conditions.
Thrilling racing game with the mesmerizing season changing.
The game combines stunts, exploration, racing, and customization.
Need for Speed Payback
One of the best racing games Xbox One has been providing for years is the Need for Speed Series. It is an amazing thrill-ride game that is a mix of revenge and racing. It includes around 74 vehicles and endless choices for customization. The players are allowed to fine-tune their rides using five race classes: Runner, Drift, Race, Drag, and Off-Road.
Need for Speed Payback is about action-driving. This racing game includes three playable fun characters: wheel woman, off-roader, and street racer. The game offers a 24-hour day and night cycle in a gambling and dusty city, which adds to the realistic gameplay experience.
In this game, the players can earn Speed Cards by completing different races. Moreover, they can also buy the Speed Cards using cash wins.
The game offers open-world exploring, exciting plot, and police chases, which contribute to a thrilling racing experience. Feature of Need for Speed Payback include:
You can win both bets and events in the Fortune Valley.
The game offers around 74vehicles with choices for customization.
There is risk vs. reward gameplay which includes exciting adventures and three unique characters.
You can gain the respect of evade cops, beat competitions, and underground in the ultimate race.
Day/night cycles of 24 hours.
The plot is revenge-oriented.
Grand Theft Auto V Xbox One
GTA or Grand Theft Auto series is one of the best and most successful action-adventure games. The is one of the most amazing and best racing games Xbox offers. It combines action adventures and racing to provide a thrilling experience to the player.
With detailed open-world exploration, fun-side missions, and subplots, you will enjoy this racing game more than any other game. The players need to control three protagonists: an arms smuggler, gangster, and bank robber. You can switch characters when playing the game. Each character has an amazing set of skills that can help to advance the mission as they involve in wild car chases and racing.
Police chases, shoot-outs, and racing combined with amazing open-world exploration make this one of the best Xbox One racing games. Some fascinating features include:
Three protagonists, and you can switch between the characters when playing the game.
Advanced weather and damage effects.
An intense blend of compelling storyline and gameplay.
A wide range of missions with driving gameplay with different pursuits from law enforcement and enemies.
Different fun side-activities and quests.
You have to advance the gameplay through a story by completing different challenging missions.
Forza Motorsport 7
It has been one of the most favorites and best racing games Xbox One has on its list. It is a life-like racing game with splendid ultra HD 4K visuals and superb sound effects, which will provide you with a top-notch gaming experience.
In this game, you can enjoy around 700 Forzavista cars, including Lamborghinis, Parches, and many more. Additionally, the game features a unique realistic feel on the track and authentic details. This game allows you to enjoy 30 legendary destinations with the realistic sky and lighting effects as well as weather changes. You can have fun collecting cars and gaining access to high-end rides and rare models. The game offers endless options for collection and playing, which makes it one of the exciting Xbox One car games. Some primary features include:
Racing experience with 4K realism at 60 fps.
Immersive and fantastic visuals with realistic sound effects.
Thirty beautiful landmark destinations, different racing conditions, and around 200 ribbons.
The choice to choose from around 700 ForzaVista cars.
The largest collection of top-notch cars like Ferraris, Lamborghinis, and Porches.
NASCAR Heat 5
If you are a NASCAR 5 fan, then NASCAR Heat 5 is one of the best racing games Xbox One has for you. This is an official racing game for the popular car racing series. It puts the players in the driver's seat in a race to compete for the NASCAR Cup Series Championship. The game features all the official team, drivers, and races on around 38 realistic tracks.
You get the opportunity to choose between the option to create your own team or joining an existing team to take the challenge of the Extreme Dirt Tour, XFINITY Series, and the Gander RV & Outdoor truck series.
It is one of the best racing games for people who love pure racing, as it does not include exploration to open plots or open worlds. The game allows you to enjoy your car and simple slider in order to adjust the car between "loose" and "tight."
You can use the testing mode until you feel comfortable/After that, you can join fierce racing competitions with different AI opponents. Primary features of the game include:
It is the official video game of Nascar.
There are 100 drivers and 28 realistic tracks.
Includes all official teams, drivers, and Nascar cars.
You can enjoy four different series: Extreme Dirt Tur, XFINITY, NASCAR Cup, and Gander RV & Outdoors Truck.
You can choose your victory song.
Offers a practice mode.
Includes a split-screen option.
Grid
When it comes to the list of the best Xbox One racing games, Grid is the best for racing fans. If you simply enjoy racing splendid racing cars, including both classics and currents, then this one is the best game for you.
There are around 80 cars in the game, including GT Group 5 cars, modified muscle cars, supercars, and many more. The tracks in the game include Grid World Series, Sydney Motorsport Park, Zhejiang International Circuit, Sepang, Indianapolis, Silverstone, and more. You can enjoy different weather conditions and a wide range of time-of-day lightings, which contribute to a better gaming experience. Some amazing features of the game include:
Choose from around 80 iconic cars, 6 thrilling race types, and 12 rare locations.
Enjoy the non-stop racing action to conquer the motorsport.
Super-responsive and thrilling racing play.
400 AI drivers with different driving styles.
No distracting plots.
Read More – Best Ps5 Racing Games
Final Words
If you are a racing fan, then there are various best racing games Xbox One offers. The game allows you to relieve your racing fantasies of exploring the open-world, driving different cars, and participating in races.
The games offer a wide range of cars, tracks, and weather conditions to let you have a better racing experience. Now, what are you waiting for? Enjoy the racing games and share your experience with us by dropping a comment.