How to make Wedding Cake in Disney Dreamlight Valley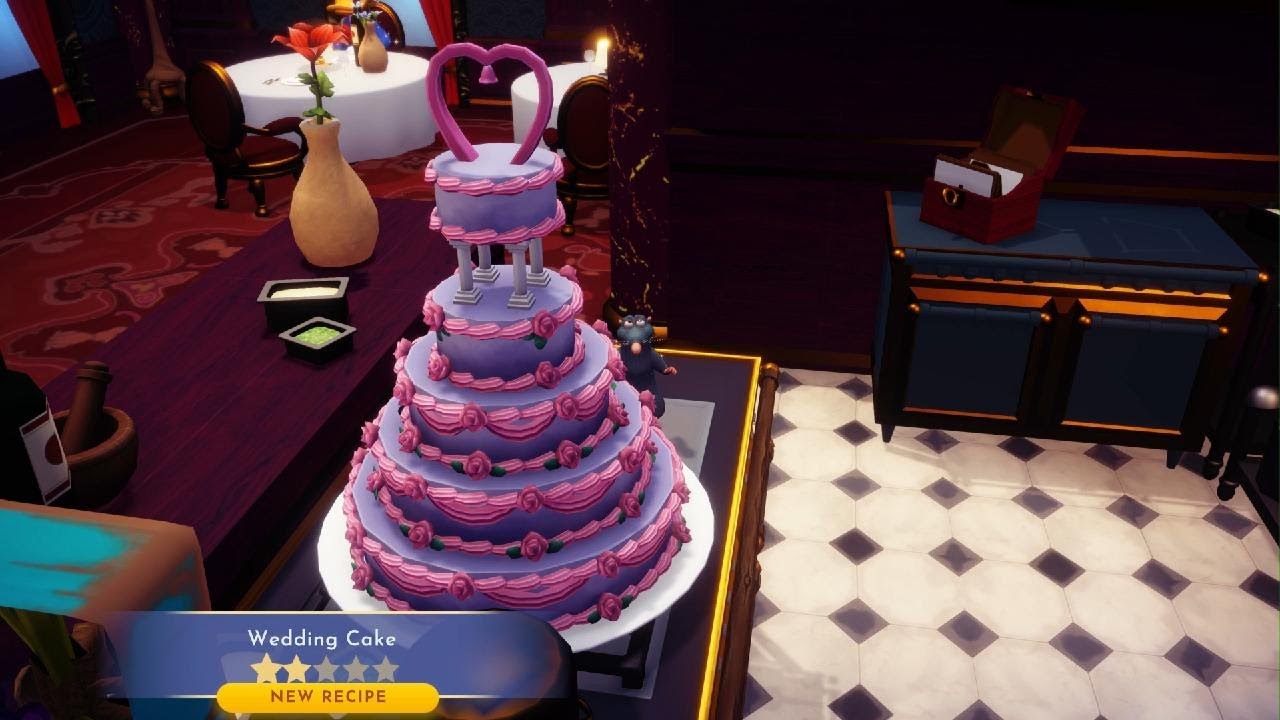 Disney Dreamlight Valley has over 160 dishes that may be created, consumed, and sold. While the ingredients for some recipes may require extensive travel, others can be thrown together almost instantly using only what you have lying around. Disney Dreamlight Valley has many delicious five-star dishes, and the Wedding Cake is a fan favourite.
Like other five-star dishes, the Wedding Cake is fantastic for regaining massive energy, strengthening friendships, and accomplishing specific tasks and quests. Check out the remainder of this tutorial to learn how to bake a wedding cake dreamlight valley.
Where can I get the Wedding Cake ingredients in Disney Dreamlight Valley?
Wedding cake dreamlight valley requires five ingredients: eggs, butter, vanilla, sugarcane, and wheat. 
Butter and eggs.
Chez Remy is the only place to get eggs and butter; you'll need 410 Star Coins.
Vanilla 
Vanilla may be purchased at the 7,000 Dreamlight-cost west of the Plaza in Sunlit Plateau or collected from plants in the same region.
Sugarcane
Dazzle Beach, the biome to the east of the Plaza, is where you can buy sugarcane or grow it yourself. Wheat may be found at almost every grocery store. Visit Goofy's booth in Peaceful Meadow, or pick some up in the rapidly expanding Night Thorns.
Read More – THE ULTIMATE STARDEW VALLEY JUNIMO HUT RANGE
Disney's Dreamlight Valley: The Wedding Cake Cookbook
Gather the required items and follow the recipe below to bake a wedding cake dreamlight valley.
In the game, go to the kitchen that is most conveniently located.
Get a bit of coal and keep it handy.
If you're stuck, choose a recipe from the list on the left.
Select the elements for the Wedding Cake by dragging them from the left-hand menu.
Put them all in at once, or drop them in individually.
Choose "Begin Cooking" to get started on the Wedding cake.
You may sell the Wedding Cake for 785 Star Coins if you don't need it for any of your tasks, quests, boosting friendship levels with characters, or eating yourself for massive amounts of energy.
Making a Mocha at Disney's Fantasyland
In Disney Dreamlight Valley, you'll need these three things to make a three-star Mocha:
Coffee Beans Milk Chocolate Coffee Beans
It will be challenging to get Coffee Beans. Some villagers in Peaceful Meadow, Dazzling Beach, and the Forest of Valour have misplaced their socks, and your first order of business is to return them to them. If you find and return enough socks, Stitch will join the valley's permanent cast. The Coffee Bean Bushes mission becomes available if your relationship with Stitch reaches level 4. Once Coffee Beans have been planted and grown, they can be harvested indefinitely.
Milk costs 230 Star Coins and can be bought at Chez Remy. After completing Remy's quests in the Ratatouille Realm, accessible through the Dream Castle, Chez Remy will appear in your valley. After completing Remy's quest, A Restaurant Makeover, you will have access to Cheese, Eggs, Milk, and other items for use at Chez Remy.
How to Revamp Disney's Dreamlight Valley Connected?
One Cocoa Bean is the last thing you need to make Mocha in Disney Dreamlight Valley, and you can get it by hunting in the Glade of Trust or the Sunlit Plateau for some random trees. Both of these locations require 5,000 and 7,000 Dreamlight to unlock.
You may make some delicious Mocha in Disney Dreamlight Valley by gathering the necessary materials and putting them into a pot with one coal. The beverage is an excellent method to regain strength or to increase one's Star Coin total.
Read More –FIGHTER OR SCOUT STARDEW VALLEY? COMBAT SKILL GUIDE
How much money can you make with this dish in Disney Dreamlight Valley?
Price: 2500 gold for pan-fried anglerfish
How do you make Disney Dreamlight Valley popsicles?
 Slush Ice.
 Fruit (Example: Apple, Raspberry, and Banana)
 Sugarcane.
Where can I get a Disney Dreamlight Valley money cheat guide?
Put Goofys' Store, your stove, and Remies Restaurant near one another. 

Get your hands on as much milk, cheese, butter, and eggs as you can.

Prepare a Souffle at the stove. 
Please sell all the Souffles you made to Goofy's Store.
Where to find White Passion Lily in Disney Dreamlight Valley
Disney Dreamlight Valley requires you to spend 3,000 Dreamlight to enter the Forest of Valour and another 10,000 to enter the Frosted Heights zone before getting a White Passion Lily. Then, look for tall flowers in Frosted Heights, the Passion Lilies. Different colours are available, including red, blue, black, green, and white. Collecting all of the flowers in Frosted Heights requires completing Elsa's friendship quests and gaining access to the pickaxe needed to break through the ice blocks obstructing your way.
These are some crucial facts that you need to know about wedding cake dreamlight valley. 
Read More-How To Get Onions Dreamlight Valley ?