8 Best Minecraft Survival House To Build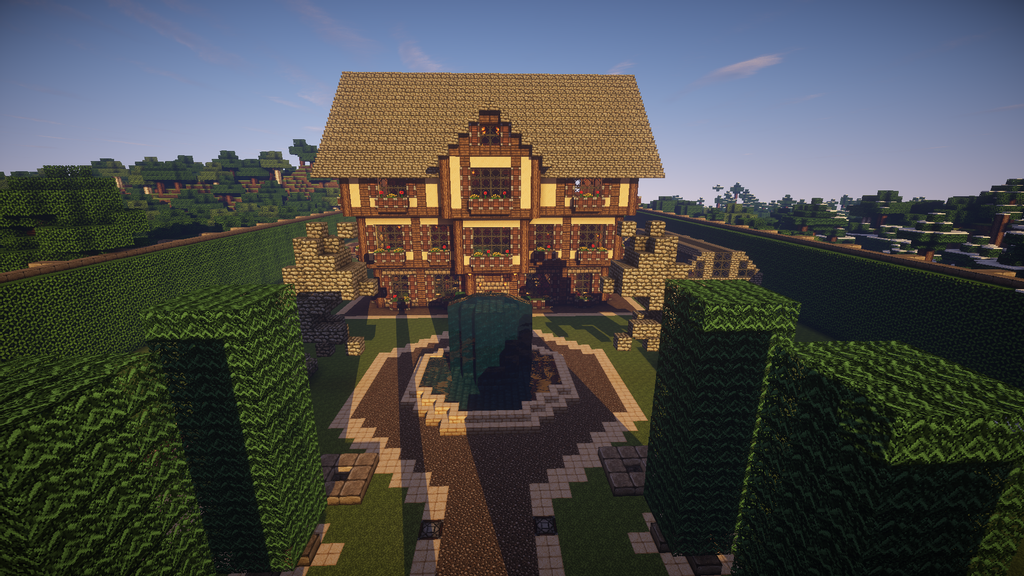 Minecraft homes come in all sizes and shapes, and they can be built using different building methods. The most famous type of house is the Minecraft survival house that usually follows either a medieval or modern style.
Medieval Minecraft survival houses are famous because they generally are made of stone and wood. Both of the materials are very simple to get, and there are many types of blocks to choose from. Like, with wood blocks, there are several different colors that depend on the tree the wood came from.
If you are up to the challenge, then you can also build a huge modern house. Normally, this will need more complex building blocks like concrete, and it will also take more time to build. So in this article, you will see a variety of sizes and styles for both advanced players and beginners.
Simple Modern Home
Modern Minecraft houses generally have many glass, pools, white colors, multiple floors, and staircases. For the building blocks, you can use quartz, wool, or concrete. Quartz is usually great because you can also build slabs and staircases with it.
Some tips when building the Minecraft simple modern house are to use lots of glass to give natural lighting, use the asymmetrical shapes, and also include big "open concept" spaces.
Sandstone Mansion
If you see to build a huge Minecraft house, then you can go for the huge mansion. The mansion features multiple stories, and it is made from sandstone which is almost simple to get in survival mode.
Suburban Home
A model of a real-life home in the suburbs is an amazing thing to build in Minecraft. Use blocks like wool, concrete, wood, and stone to build the Minecraft house.
Many suburban Canadian/American homes have an attached garage, which surely adds to the "real-life" feel of the house. Although there are no vehicles in (non-modded) Minecraft, so you can use the garage as a storage area.
To create the scale version of a real-life suburban house, you have to build a much taller and wider building to be able to combine all the hallways, rooms, kitchens, and bathrooms.
Modern Minecraft Mansion
The modern Minecraft mansion is simple, beautiful, and also almost simple to build. The modern Minecraft mansion features a pool as well as a balcony on the second floor. The entrance of the mansion is on the sides rather than the front; this style adds to the uniqueness of the mansion.
The blocks used to build the mansion are not too difficult, and this includes wood, glass, stone, water, leaves, etc.
Simple Medieval Minecraft House
The house in villages can be a great starting point to build a simple Minecraft house.
The simple-to-get materials for building the medieval home: wooden logs, cobblestone, wooden doors, and trapdoors. Also, you can change the appearance by using the smooth stone or stone bricks. This type of house is ideal for beginners when playing survival Minecraft.
Wooden Forest Mansion
Modeling the house after a naturally created mansion in this game can make building easier. The forest mansion would generally be built in the middle of the forest and made out of wood and a bit of stone.
This type of mansion is almost simple to build because wood is so common in the game; however, first, you will have to build the tree farm to get all the required wood for it. If you want a simple option, then you can try seeing the naturally created Wooden Mansion and then redesign it as you like.
Asian Pagoda Minecraft House
The Asian-themed Minecraft house can be tough to build because of the curves and angles involved. You may find it helpful to install the Asian mod to help the build with this method.
While this pagoda house has several floors, you can also start with the simple one that is just a couple of floors tall. Also, you can add a little bit more color options into the building, like shades of yellow or red.
Compact Modern Minecraft House
The compact and small cool Minecraft survival house is becoming increasingly famous. The small home is generally best for just the "outpost" place to rest and take some supplies like food.
Another best idea is to create a small house and then build a huge underground base under it. Other players will visit this home expecting a tiny house and be shocked when they find the huge underground base under it!
Final Words
With this, we end the best Minecraft survival house for you. You can have fun choosing what you want to survive and set up an easy Minecraft survival house accordingly. Just ensure that you choose the proper design and space to built the house accordingly. Moreover, if you love to play survival challenges, then check out the best Minecraft survival challenges maps for 2021. If you find this information useful, drop a comment below this section.