Best Minecraft House Ideas For Inspiring Rookie Builders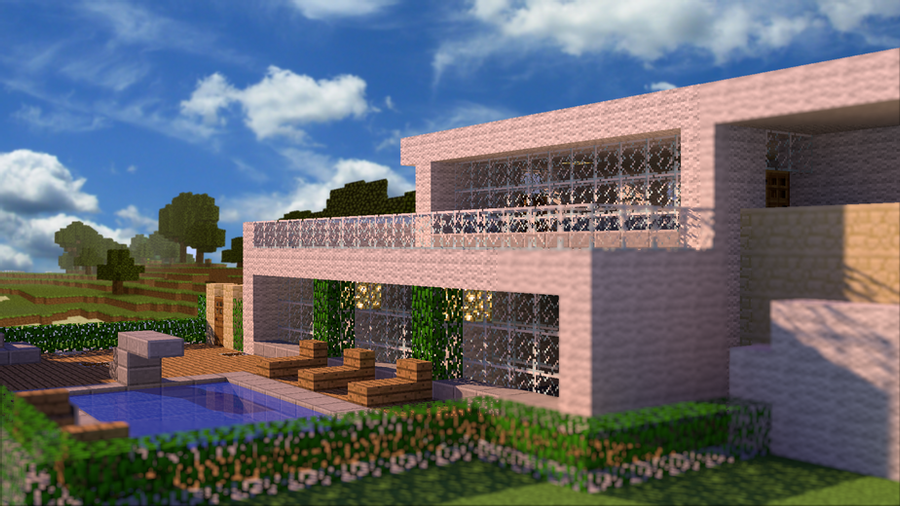 Are you looking for some inspiring Minecraft house ideas? Well, you have come to the right place. Minecraft serves as the best platform for all the architecture lovers out there. It gives the player the ability to build and explore various structures they can call their home.
This game is designed in a way to let the players build breathtaking structures. Besides exploring, mining, or survival adventures, this game also offers a creative mode. Doesn't that sound great?
Creating a different variety of buildings and structures may seem difficult at first, but the dedicated and talented players have shown that anything is possible with creativity. Paired with amazing textures and shaders, these below-mentioned buildings look out of the world.
Check out these amazing Minecraft house ideas for much-needed inspiration.
Best Minecraft House Ideas:
Here are some of these jaw-dropping structures by amazing builders and Minecraft players.
Modern Beach House
Do you wish to try Minecraft modern house ideas but don't know how to make one? Well, these beautiful modern Minecraft beach houses are all you need for some inspiration.
Minecraft house blocks have a rustic and traditional look which makes it difficult for players to build modern Minecraft house designs. With the help of some creativity and powerful imagination, you can do it now. You can even construct a station on the moon; building a modern Minecraft house is just a simple thing.
KugioMC built one of the best Minecraft beach houses. You can incorporate similar concepts to create your modern dream house too. You need to keep one thing in mind, that is, while buying any structure, always try to use plain materials.
For instance, concrete is a basic and the best Minecraft material for building blocks. You can pair concrete materials with wooden planks of any color you like. Another great material to make Minecraft house designs is glass. It can be used to make large windows and glass railings etc. you can even add sugarcane farming to add some modern aesthetics to your house.
Read More- These Are The 5 Best Minecraft Seeds For 2021
Tuscan House
There are various different color schemes and blocks in Minecraft which can be used to make cool Minecraft houses. You can also mix and match colors with various patterns to create some good Minecraft houses and designs like this Tuscan-style home. This Tuscan house is made using two different colored clays, brick, coarse dirt, and granite. On top of that, leaf blocks and different woods have also been used to create various characters and textures.
Abandoned House At Sea
If you are still waiting to reach the level where you can build underwater houses, try floating Minecraft house ideas on water like this one. This abandoned house by Tkapplez at sea is very popular in the game. It features nice and realistic-looking shades and is one of the most good-looking Minecraft houses for beginners.
This structure will give you a good idea of the power of stone and wood and also the importance of the palette's construction. Having various patterns and blocks in such Minecraft house designs still does not break the color scheme of the building. The only thing that can create variation is the shape and texture. Try this once. Creating such simple Minecraft house ideas is always fun.
Ice Spike Mini Home
Are you bored of simple Minecraft house ideas? Well, this ice spike mini home is one of the best Minecraft houses for you. You can spot plenty of biomes in Minecraft; however, this Ice Plains Spikes biome is rare and aesthetically pleasing. The best part about this structure is that you can convert it into your house like Drill Trill.
The ice can melt because of all the torches nearby, so make sure to use End Rods as your lighting system. No other player will ever know that this ice spike in your house, and once they come to know, they will be utterly impressed by your sign.
Mountain Hut
Are you looking for an exciting place to build good Minecraft houses? What better place than mountains? Having a gorgeous view of your Minecraft modern house ideas is the right pick.
Builder and player Goldrobin proved that you could make any dream house possible with some creativity by making an incredible Mountain hut. This small wooden hut on the mountainside is perfect as a starter survival house. If you are a beginner, definitely try to build similar designs.
The Palo Alto Lantern House
It is no joke to create modern houses in real life, but with Minecraft, you can fulfill your dream of modern house ideas with less difficulty. You can take inspiration from this stunning house which looks so realistic.
This house design is inspired by Palo Alto Lantern House, which is situated in real-world California. Doodlemerson, the player, created the Minecraft version of this luxurious modern house.
Wooden Minecraft Mansion
Be it real life or Minecraft games, constructing big houses is difficult to achieve the project. It takes a lot of planning and decoration work to make them look good; however, at times, they end up looking boxy. If you want to try some mansion Minecraft house ideas, you can take inspiration from this one. This wooden mansion has the right shape and depth, which gives an interesting look to the house.
This is a four-level wooden mansion which is created by Zach4455. The windows are shaped, and the lanterns, gates, fences are put to the right use to make the residence look detailed and gorgeous.
Diagonal Modern Home
If you are bored of simple Minecraft house ideas and are willing to try something more modern, then this is it. Who says building an old base and then expanding it is the only way to make good Minecraft houses? Rookie players find it easy to true simple Minecraft house ideas with a simple layout; however if you wish to build a different house from others, follow this.
Swordself_MC builds this diagonal house instead of choosing a regular straight house. This diagonal shape creates an unexpected depth to construct the house, which makes the design look amazing. The shape and size of this classic cottage-style house look extremely astonishing.
Read more- How To Make Potions In Minecraft?
Underwater Hideout
For expert builders searching for an ultimate challenge, an underwater hideout will be a magnificent build. No doubt, creating an underwater Minecraft house design is one of the most difficult challenges in survival mode. A player can only do this if they have a conduit closeby, proper enchanted gear, and tons of potions with a bucket full of sponges.
Doesn't that sound challenging enough? This modern structure will be counted among cool Minecraft houses. It will create a great hideout base for you and open doors to do some new experiments with various materials and shapes like stained glass and Prismarine.
Island Temple
No matter whether you like simple Minecraft house ideas or modern ones, great landscaping makes a world of difference. This Island Temple has a fantastic build and showcases some Asian-style architecture with curved pagoda roof style.
Besafewearshoes is the creator of this temple build who has put a lot of attention to very small details of the landscape like the lanterns and flowers to give an overall ethereal look to the structure. Instead of growing actual trees, they have just created an organic trunk and added leaves on it.
Desert House
Deserts are one of the most hated biomes in Minecraft. Due to lack of structure and plants, the landscape looks pretty bland to live in. Also, getting food is pretty difficult if the desert biome is a spawn point in the Minecraft world. However, you can build some cool structures after a good start.
With the help of different types of sandstone, making houses similar to this desert house by Antonio_M8 will stand out in the biome. This is like cool Minecraft houses that give holiday vibes with an airy balcony on the second floor and numerous windows that make the house look spacious. Adding some plants can give a nice touch to the house and also spice up the otherwise dry landscape.
Oceanside Castle
There are two types of players in Minecraft Game- one who loves to go all in and become the rulers of the land, second who like building small and beautiful Minecraft houses. Stepping out of the comfort zone by taking on new challenges and doing something different can be a nice idea. You can learn and adopt new building styles by varying in style and size.
Mansion Minecraft house ideas were never this beautiful until DTH217 showed how it is done. He took inspiration from all the Minecraft gardens, lighthouses, and dungeons that are required in survival games. This project is not only challenging but also requires a lot of gathering and planning of the right resources.
Wooden Starter House
Sometimes simple Minecraft house ideas are the way to. Stone and wood are like the bread and butter of the Minecraft world. This is the reason why starter homes are based on these two basic resources. These Minecraft resources are readily available, and by using some tricks and house design inspirations, you can make them look really nice, like Dekunaa's wooden starter house.
Try to make your next house traditional and rustic like this one. You will be surprised with the results and by adding barrels. Lanterns and some village items you can pull the entire look together into successfully creating a cozy lodge.
TreeHouse
A treehouse is one of the classic builds in the Minecraft world. This is like every player's childhood fantasy coming to life. A treehouse can either be rustic, giving shack-like vibes, or ultra-modern like the one made by AnyTCS.
Jungle serves as the best biome to construct treehouses; however, if there is no such biome near you, use a mock tree to lay the treehouse's first foundations. Once the foundation is laid, you can construct your treehouse on three different levels on the tree branches to give the illusion of a tree growing all around the house.
Read More- These Are The Best Minecraft Survival Servers That Will Leave You Awe Struck
Final Words:
Building a house is not easy in a game. It takes a lot of planning and thinking. Every player has their own style when it comes to Minecraft house ideas. Creativity and imagination vary from person to person. With this post, you can take all the required inspiration and build your very own Minecraft house designs.
So which is your favorite among all these cool Minecraft houses and buildings? Let us know in the comments below!