Top 13 Best Idle Games For Android Smartphones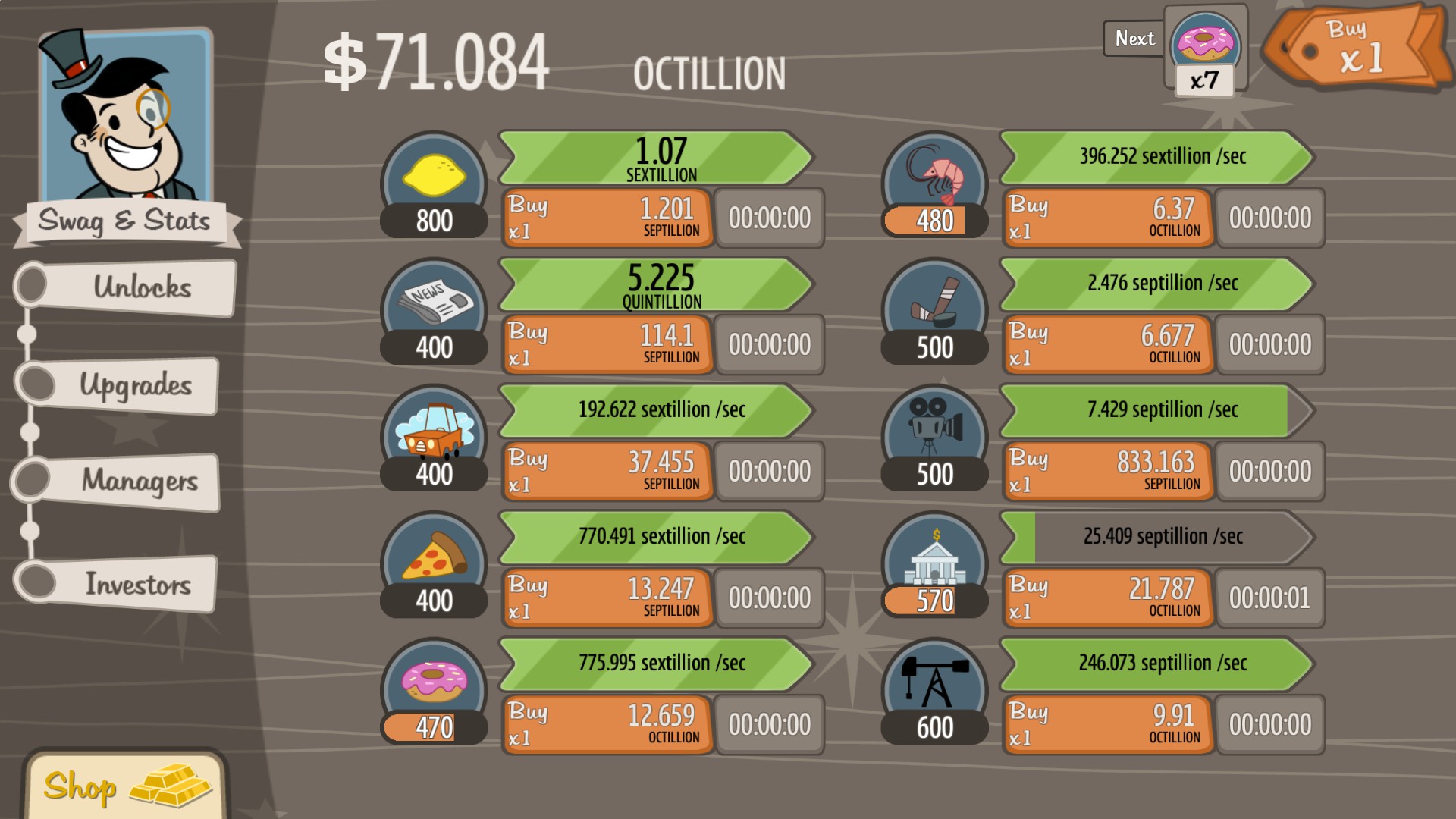 Sometimes playing games is too much work, but when that occurs, there is an important question that comes to mind: how are you going to play the game without any effort? This is where the best idle games for mobile come in. It says something about us game fans that we have created a game to play, even when we are too busy or tired, to the game. Want to increase levels but cannot be bothered with the work.
So that is why we made the list of the best idle games for mobile because gamers love having a game running in the background while they are doing something else, like watching a movie or playing a totally different game. Idle games are also shocking addictive, giving you the best deal of progress for minimum effort.
So here is the list of the best idle games, so that when you do not want to play, there is something for you to play!
Adventure Capitalist
People like making money without putting in any effort; Adventure Capitalist may be just the game for you. This game sees you start with the humble lemonade stand and build the way to economic power. Moreover, the best part is that you can hire others to do the job for you and see as the fortunes multiply.
Fallout Shelter
This game was launch in 2015. It has new features, like exploration and wasteland adventures; it is an idle game. You build the vault; after that, you put your feet up and serve as a supervisor, waiting for explorers to return and supplies to provide. It is the sequel of sorts, and this game also features the auto-battle PvP.
Realm Grinder
Starting with the small farm, you build the holdings into the established realm, searching the surrounding country and joining alliances. It sounds like a bunch of work, though, right? Fortunately, all you have to do is click. Realm Grinder has a great deal of depth, letting you pick a side, unlock technologies, develop, and engage in the surrounding countries – just about everything you would expect from the RTS town-builder.
Tap Titans 2
Tap Titans 2 is not quite as cool as its other idle games; however, for any looking to conquer monsters and fight fearsome enemies with the least responsibility, it is a must. Fight your way through over 70,000 levels, battle more than 60 unique monsters, and prove yourself the hero.
Idle Oil Tycoon
Idle Oil Tycoon will not quite get you there; however, it may be a bit of fun in the meanwhile. After you discover oil in the backyard, you are on the way to riches! Just sit back, and watch as the cash rolls in, hardly returning to upgrade the oil well, and sell them when the time is right.
Bitcoin Billionaire
In this idle clicker game, you start from zero in a rundown office and build your bitcoin wealth to extraordinary proportions, using a cryptocurrency to buy virtual reality, robot butlers, and many more. Also, there is also time travel, where your clicking becomes so extremely powerful it rips through the space-time into the whole new era.
Cookie Clicker
This is a classic select for us: a click game with the simple goal – get cookies. At first, you can tap a cookie in the center of the screen to collect them; however, when you get more cookies, you can use cookies to upgrade the cookie harvesting. Soon enough, you will be harvesting billions; you will feel like some kind of cookie god.
Idle Miner Tycoon
Idle Miner Tycoon is another idle game that gives you a peek into the true working of capitalism. Manage your way into the billions by upgrading the mine and eventually hiring the specialists so that you can sit back and put the feet up, seeing the cash roll in. The mine even stays operational when you are offline.
Egg Inc.
Have you ever dream about becoming a chicken farmer; however, we are too lazy to do any farming? Then this game is perfect for you. In this idle clicker, you hatch the chickens, build chicken houses, and research the secrets of the egg in order to make the most excellent hen farm there has ever been.
Medieval: Idle Tycoon
Become King of the fort as you build the wealthy Medieval town and heavily tax the people to gain yourself gold. This idle clicker lets you do much of the normal stuff that tycoon games do, like build, collect, research – but it is fun; the medieval environment is easy enough to set it apart.
Dungeon Inc
Managing the dungeon is a huge business, and we have known it ever since the Dungeon Keeper first came. In this game, you have just been promoted to the new Gold Production Manager. The player's job is to increase the dungeon, hiring monsters, and producing more gold. However, you also have to defend the dungeon against the enemy named Tax Knights, who are seeing to steal the hard-earned cash.
Game Of Thrones: Tale of Crows
Have you ever dreamed of being the commander of the Night's Watch? Well, you can. In this game, you send ranging people north wall, and the cool thing is that you get notifications during the day, as these parties send ravens back to you. Parties also keep traveling in real-time, even when the game is off, so players can enjoy the comforts of Castle Black.
Idle Police Tycoon
Ever imagined running your police station and severe justice on wrongdoers? Well, as you may expect, this game puts you in command of one police station, managing the staff, and making space to put all the criminals you catch. It is an enjoyable idle game that increases in difficulty as you progress.
Final Words
Idle games are kind of a unique genre in gaming, but the mechanics are super simple. You just tap on the screen to produce a thing, or you simply wait for the thing to generate on its own. So we have mentioned some of the best idle games for android mobile. We hope you find something interesting to play. If you like simulation games, then here are some of the best picks on our best mobile simulation games list may be for you.